Valentine's Day is fast approaching and it's the perfect time to show your significant other how much you care. If your man is a travel enthusiast, you're in luck! This blog post is a guide to 20 of the most luxurious travel gifts that are sure to make your man's heart skip a beat. Whether he's an adventure seeker, a culture buff, or just loves to relax in style, these gift ideas will inspire wanderlust and make his travels even more memorable. So, sit back, relax, and get ready to take note of the ultimate luxury travel gift guide for him!
The DJI Mavic 3 Classic is a thoughtful and practical gift for the traveller in your life this Valentine's Day. Its compact and portable design, advanced camera features, and intelligent shooting modes make it a great tool for capturing memories and moments while on the go. Whether your significant other is a seasoned photographer or just loves to document your adventures, the Mavic 3 Classic offers a unique and unforgettable way to capture and share those special moments. The ease of use and intuitive controls also make it a great gift for those who are new to drones and looking to try something new. So, surprise your loved one with the DJI Mavic 3 Classic and help them take their travel experiences to new heights.
Tropical Trepidation Swim Trunk from Peter Millar
These swim trunks from Peter Millar are a must-have for the beach or the pool. From the drawing board to the final product, each one-of-a-kind print is exclusively hand-designed in our creative studio. A four-way stretch fabric, fine mesh liner and tagless construction provide all-day comfort. They are offered in an updated 7″ inseam.
Fall in love with this beautifully designed map of the world! This map on the wall from Etsy is a real eye-catcher in every room. Keep track of where you've been in the world, or think about where your next trip will be? This lovely gift will serve as your motivation to travel and provide you with inspiration for future trips together.
Drawstring backpack from Fendi
Made in Italy, this large backpack from Fendi comes in a jacquard fabric with brown FF motif. The brown leather details and flap are embossed with the Fendi Roma logo. Featuring two front pockets, a drawstring closure, an inner zip pocket and palladium-finish metalware, this is a Valentine's gift that's sure to be treasured. It can be worn over the shoulder or held by hand thanks to the additional detachable strap.
Women's Meridien Heated Jacket from Fieldsheer
Stay cozy and in love this Valentine's Day with the Women's Meridian Heated Jacket from Mobile Warming by Fieldsheer. Designed for stylish comfort in even the coldest destinations, this long winter coat features a Powersheer XLTM micro heat system with four settings controlled via Bluetooth and the MW Connect app. Snuggle up with your sweetheart in the premium Primaloft® inner core insulation and removable insulated hoodie. This above-the-knee length jacket is perfect for a romantic winter getaway or a cozy date night on the town. Available exclusively in the U.S.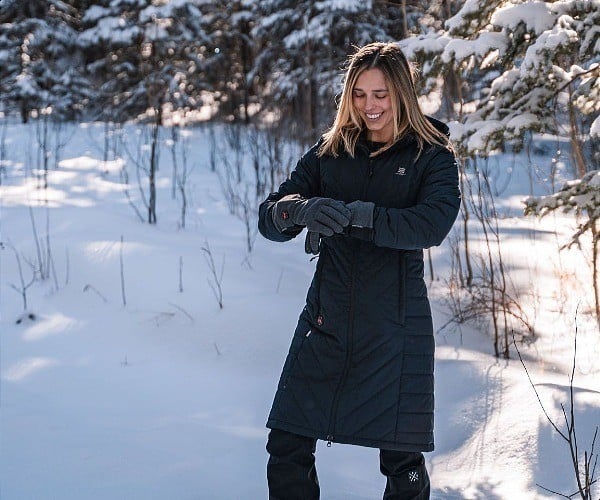 Burwood Polished Binder Oxford Brogue Black from Church's
Ideal for business travel, this classic full brogue Oxford from Church's comes with exceptional durability; introduced in 1970, the Burwood was historically constructed using untanned hide whose perforations allowed water to drain from the shoes when the wearer crossed wet terrains. A favourite among those who prefer a sturdier shoe without compromising on elegance, the Burwood contrasts decorative brogueing and a high-shine finish with a highly practical double sole, perfect for repelling water and offering longevity of wear.
The X3 from Insta360 is a great gift for Valentine's Day because of its compact and portable design. It can easily fit in a pocket, making it perfect for capturing memories on the go with your loved one. The X3 also boasts impressive 360-degree photography and videography capabilities, allowing you to capture every moment in stunning detail. Whether it's a romantic sunset, a walk in the park, or a fancy dinner, the X3 will make sure you never forget those special travel moments you share with your loved one.
The BVLGARI man belt is a sophisticated and stylish accessory that would make a great Valentine's gift for him. Crafted from high-quality denim sapphire grain calf leather, this belt is both durable and fashionable. The iconic round BVLGARI closure in brass palladium plated hardware adds a touch of luxury, while also providing a secure and adjustable fit.
The Jack in Blue Everyday Oxford from Taylor Stitch
There's one simple reason Taylor Stitch call this their Everyday Oxford; they wear them pretty much every single day. With just the right amount of sturdy for year round wear, this makes for a great travel shirtt – soft to the touch but built for a decade of solid wear. Oxford is a perfectly versatile fabric that looks just as good pressed as it does pulled off the back of a chair. While traditional cotton uses 25 percent of the world's pesticides, this organic cotton doesn't use a drop. A better shirt, responsibly built for the long haul.
These cufflinks in dunhill's iconic 'Gyro' design are inspired by automotive engineering components and feature two independently rotating rings around a circular Labradorite stone in a blend of earthy and blue tones. Solid silver with rhodium plating, they are the ideal complement to dunhill's matching tiebar and sure to impress your loved one.
The new home for your Valentine's most essential items. The CATCH:3 combines Courant's multi-coil, single device wireless technology with the familiar valet silhouette, allowing you to thoughtfully organize accessories and charge your devices. Place the CATCH:3 on both the bedside and entryway of your home, or take it on your travels to use in your hotel room.
The Camera Bag from Moynat is a compact piece that is ideal for everyday use. Functional and light, it keeps the essentials within easy reach with two inside pockets. Crafted in the Maison's signature canvas 1920 M Monogram, the cross-body bag is enhanced with black full-grain leather finishes. It features details inspired by the Maison's historic trunks, such as the Art Deco emblem and embossed Moynat tongue on the front. A personalization service is available on request.
Golden Orca Snowboard from Lib Tech
Treat your snowboarding Valentine with a power predator in both directions, courtesy of Lib Tech. American snowboarder Travis Rice took his Orca learnings and merged them with his elite high performance snowboard world freestyle tour dreams to come up with this supreme Orca freestyle evolution. The long floaty Orca nose loves pow. A directional C2 contour rips resort, trenches hardpack carves and blasts off mountainous side hits. A brand new long floaty switch friendly power kink tail rides short powerful and poppy on hardpack but floats like a dream through switch freestyle takeoffs and landings. The beloved Orca merges with magical T. Rice Pro and manifests a golden power beast!
Double Zip Washbag in Cachemire Leather from Serapian
This double zip Serapian washbag in Ruby Red Cachemire leather features two zipped compartments and multiple inner pockets to keep all your daily essentials in order and on-hand, whether you're on an important business trip or last-minute getaway. Cachemire leather is an exclusive, naturally tumbled calfskin leather that is as smooth as the finest cashmere.
---
IMPORTANT NOTICE:
If you are reading this article anywhere other than on A Luxury Travel Blog, then the chances are that this content has been stolen without permission.
Please make a note of the web address above and contact A Luxury Travel Blog to advise them of this issue.
Thank you for your help in combatting content theft.
---
Black and grey umbrella from Brioni
A new introduction to Brioni's collection, this umbrella is one of the most sophisticated ways for your Valentine to protect himself from downpours on his travels. Crafted from water repellent technical fabric, it features a sleek and elegant chestnut and ostrich leather handle. Detailed with a logo-engraved hammered metal placket, and not heavy to carry, this accessory will save your best clothing from the rain.
Unico Man footwear from Naglev
Naglev's outdoor multisport footwear comes with an indestructible outer shell made of KEVLAR® and an inner glove-like wool sock. Designed for hiking activities and usable for daily life as well, Unico is able to combine the support of a traditional hiking boot with the agility of a trail running shoe.
Viper HD binoculars from Vortex Optics
Viper HD binoculars are an optical masterpiece, giving hunters, shooters and outdoor enthusiasts a premium option without the premium price tag. The HD optical system delivers stunning resolution, color fidelity and edge-to-edge clarity. These are one of the lightest, most compact, full-size binos on the market — a noteworthy attribute when gear consideration can be measured in grams. Includes GlassPak chest harness, keeping your binos at the ready while providing comfortable, protected, strain-free, all-day carry. Available for purchase from Vortex Optics.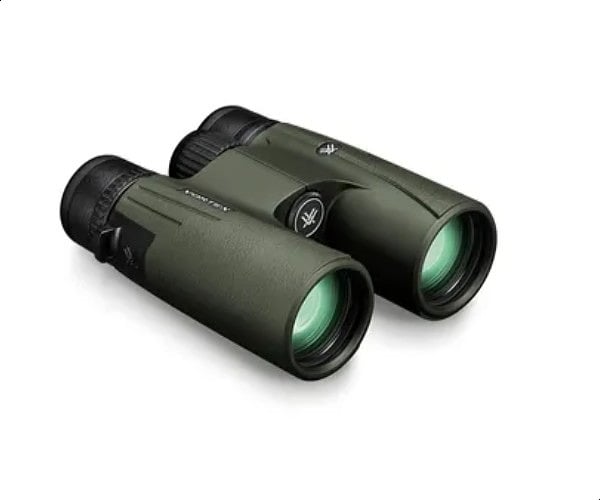 Resistance bands from Undersun Fitness
Training as you travel isn't always easy but if your partner is looking to build muscle or lose fat, then Undersun Fitness has the perfect set of bands for him, whatever his goals. Undersun bands are not only easily portable but they offer all the same physique- and performance-enhancing benefits as free weights and machines… plus a number of additional features.
Everything you want from your bluetooth earbuds. This Jaybird product offers Active Noise Cancellation for focus, plus SurroundSense for spatial awareness and safety, as well as Earthproof durability for demanding pursuits. When adventure calls, Vista 2 is ready to answer.
Takeoff Auto Chrono – Limited Edition from Hamilton
A special edition to celebrate the world record tunnel flight by Italian pilot Dario Costa. Powered by Hamilton's H-31 automatic chronograph movement, the 46mm timepiece features a unique function designed to meet the needs of pilots: a removable case you can attach to a fixed dash mount. As a nod to the two tunnels Dario flew through at record speed, both sub dials feature yellow rings, and the 12 o'clock counter is adapted to a 15-minute countdown. Super-LumiNova® is only applied to the seconds hand and indicators through 43, commemorating Dario's 43-second flight. Limited to 100 pieces, a reference to the maximum possible flying height (100cm) in both tunnels, each Takeoff comes with special packaging and a dash mount.