Sedona has for long been our favorite tourist destination in Arizona, but we never considered it a wine destination as well. In fact, we had no idea there were so many wineries around Sedona. Leave alone the fact that some them may even rival the wineries in Napa Valley!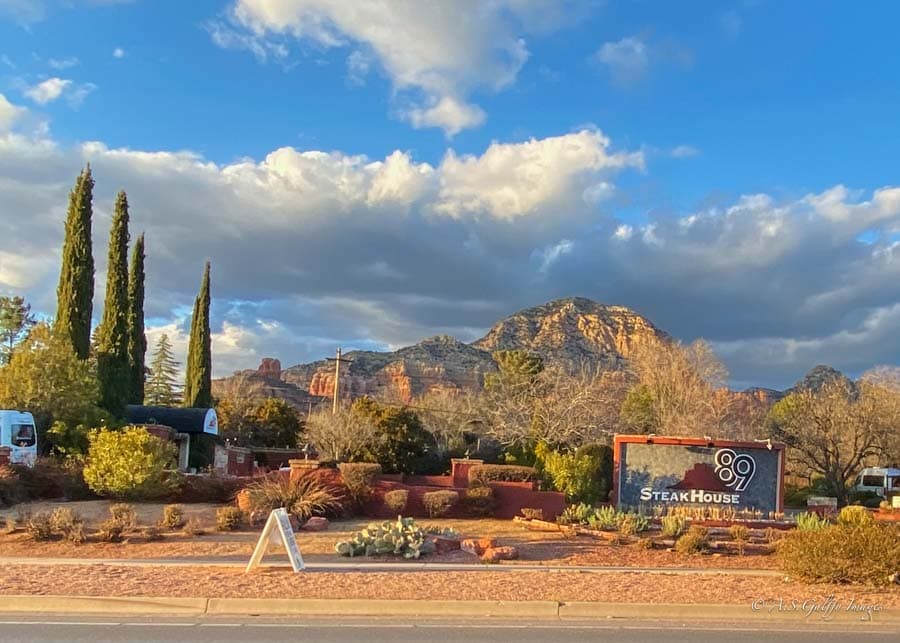 Every time we visited Sedona it was either for its ancient Indian dwellings, the ghost town of Jerome, or the many scenic trails that make this region so famous. Until one day when we received an invitation to do some wine tasting in Sedona. As it appears, this region has recently become a wine destination in its own right, with wineries that are already making waves in the world of winemaking.
The Surprising Truth About Sedona's Winemaking Business
The heat-pounded desert of Arizona may seem like the least likely place for wine making. And yet, some parts of the state enjoy microclimates that are very similar to the wine making regions of France and Italy. Such is the case of the Verde Valley, where Sedona is located. Here, the sunny days and cool nights combined with a soil that is both volcanic and rich in limestone create perfect conditions for growing premium quality grapes.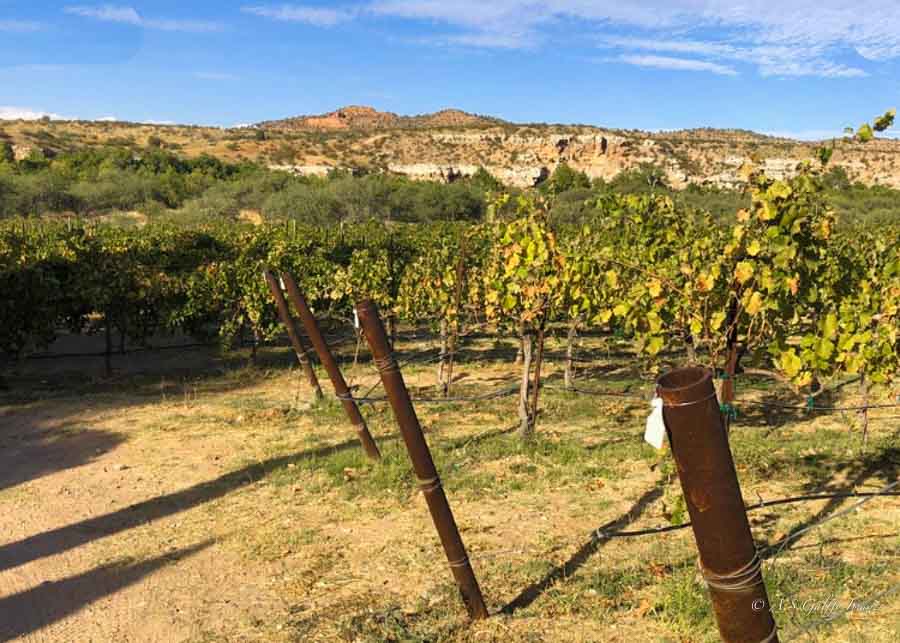 This exceptional climate also contributes to the terroir of the Verde Valley wines, which are not too sweet and not too dry. Because the quality of the wines in this region is so good, Sedona is becoming a mecca for food and wine tasting, luring visitors from all over the country.
Sedona wineries and wine tasting rooms are barely 30 years old, but wine making is not. Records indicate that in the 17th century the Franciscan missionaries planted the first vineyards in Verde Valley region and began producing wine.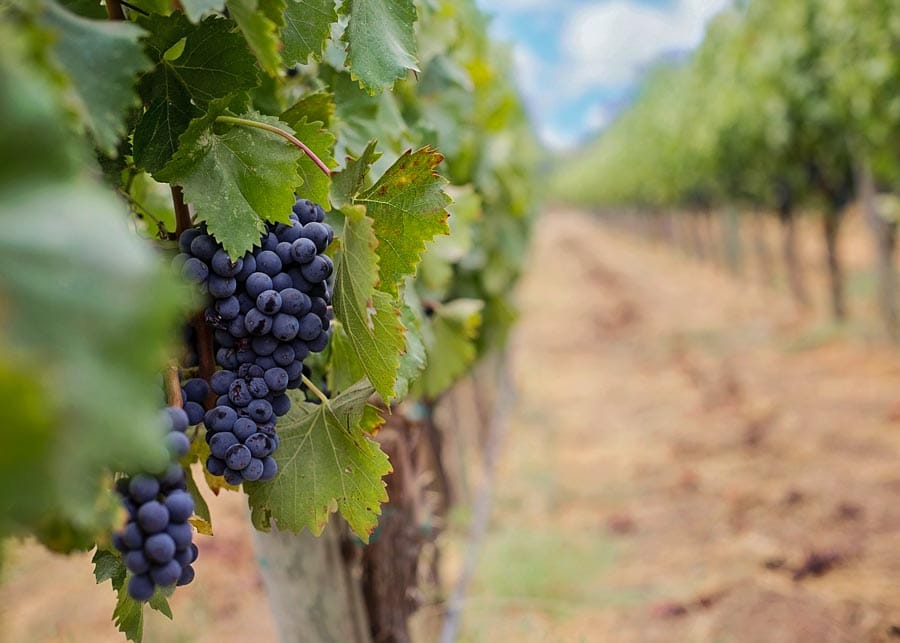 What You Should Know About Sedona Wineries
Today, there are a few winemakers near Sedona that can brag about producing some fantastic wines. These are small producers that have a true passion for winemaking.
Since they don't have a big production, their wines are only distributed to a few Arizona restaurants, or sold locally. Therefore, if you find a wine that you like you should buy it right there as you won't find it in stores. Each winery has its own unique personality and distinct wines, so they are all worth visiting.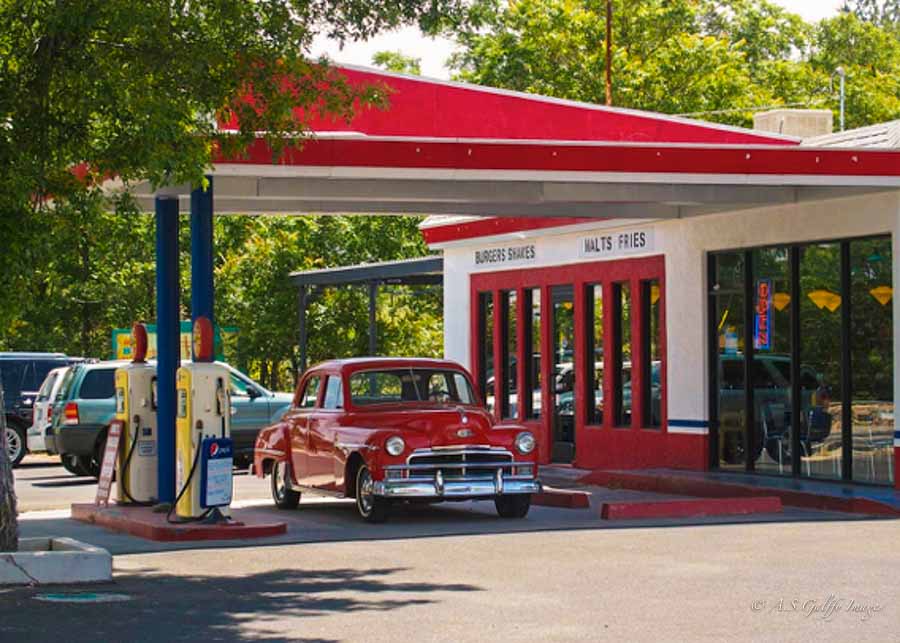 Most wineries are an easy, half-hour drive southwest of Sedona, in Cottonwood, a picturesque small town with funky souvenir shops and art galleries.
5 Sedona Wineries to Visit Along the Verde Valley Wine Trail
If you have more than one day in Sedona and want to do some wine tasting, here are some wineries and cellars that we believe deliver a good experience:
1. Arizona Stronghold
Established in 2007, Arizona Stronghold is the largest winery in the Verde Valley as well as in Arizona. Because it's a bigger winery, their wines are available in wine shops across the state. The winery has two tasting rooms: one in Old Town Cottonwood, next to Sedona, and one in Old Town Scottsdale.
They specialize in Cabernet Sauvignon, Merlot, Chardonnay, and Malvasia Bianco. However, in their taste rooms you'll find a wide variety of wines, from Malbec and Sangiovese, to Mourvedre and Petite Sirah.
We visited the winery's taste room in Old Town Cottonwood, which is near Sedona. The location is quirky and vibrant, with a very relaxed atmosphere and a great service. The wines are very distinct and their tapas are tasty and reasonably priced. Great place for awesome artwork as well. They have an amazing selection of wines, so we bought a couple of bottles to take home with us.
The winery's tasting room is located in Cottonwood and is open Monday to Sunday, between noon and 8:00 PM.
2. Cove Mesa Winery
Cove Mesa winery is the new "kid" on the block – a small family owned and operated winery. Its owners – Emil and Cindy Molin – emerged into Arizona's wine scene in 2019, at the height of the COVID-19 pandemic. "It was our lifelong dream to own a vineyard" Molin told us, as we enjoyed savory snacks and a custom tasting. He studied wine and visited wine regions around the world for several decades before deciding to invest almost everything he had in the vineyards of the Verde Valley. 
Although relatively new, Cove Mesa's sophisticated collection of wines attracts wine lovers from Sedona and beyond, so I strongly encourage you to visit it if you are in town.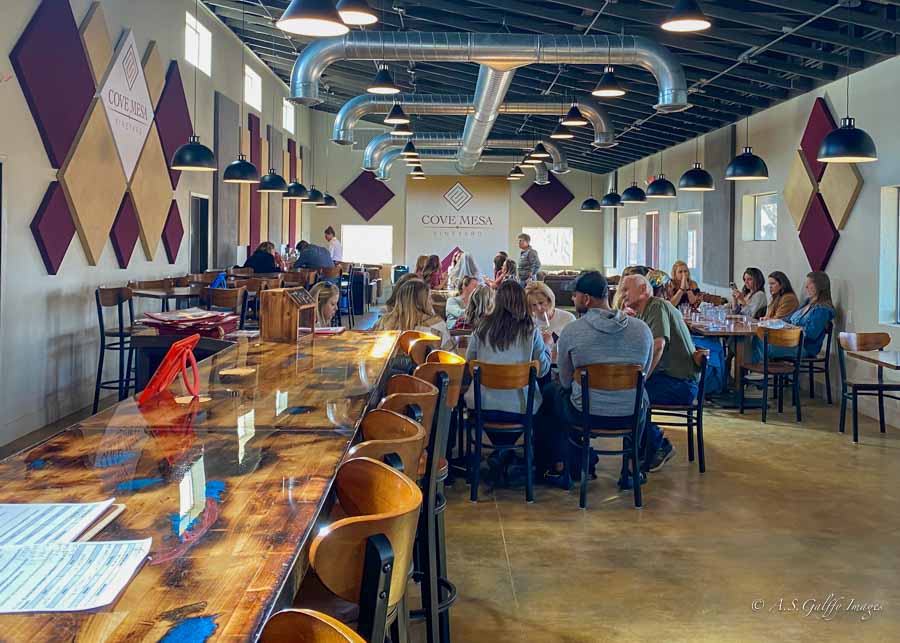 The winery's tasting room is located in Cornville. Opening hours are Monday to Sunday, from noon to 6:00 PM.
3. Château Tumbleweed Winery
Like most wineries on the Verde Valley Wine Trail, Château Tumbleweed started as a small enterprise. In 2011, two couples with a passion for winemaking decided to bring together their 30 years of combined experience and create their own winery.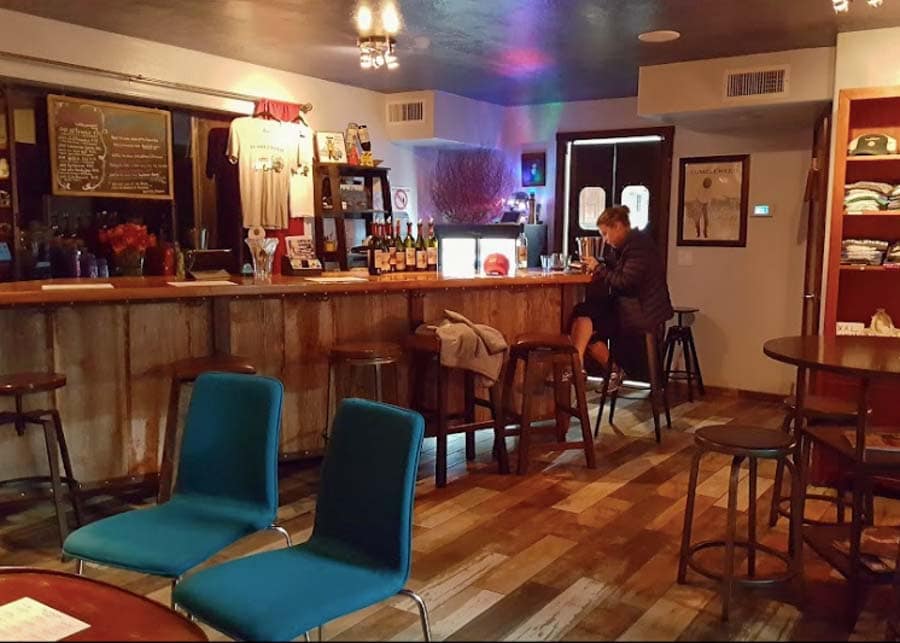 Today, the wines produced at the Château Tumbleweed are sold in many stores and restaurants all throughout Arizona. They also ship to other states like California, Colorado, Georgia, Illinois, Texas, Nevada and Oregon.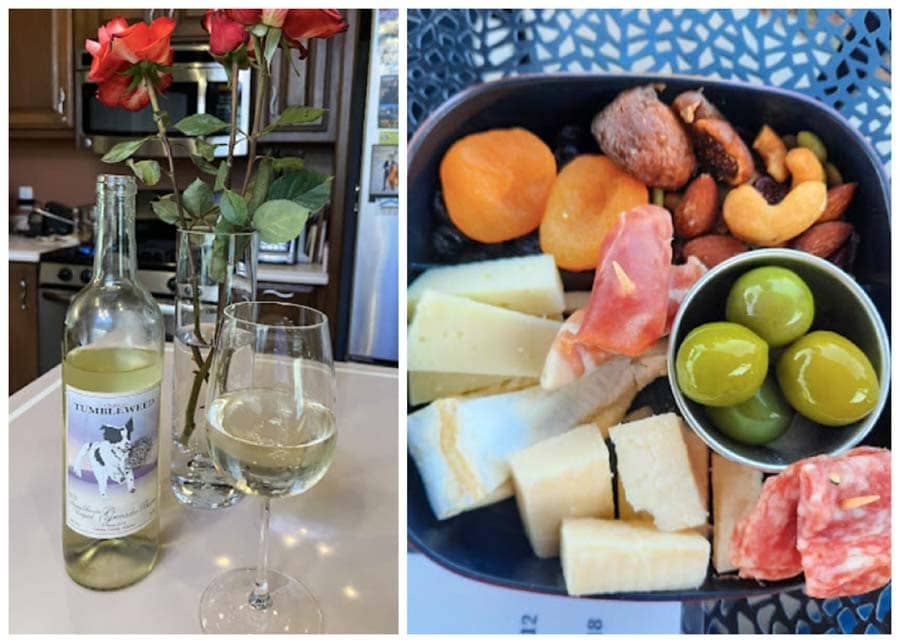 In addition to the cozy tasting room, the winery also has a small patio from where you can enjoy some wonderful Arizona sunsets over Sedona, while sipping a delicious wine. And if you just want to nibble, a cheese plate is a great complement to your wine tasting.
Château Tumbleweed winery is located in the heart of Camp Verde, about 35 miles away from Sedona. Opening hours are Monday through Sunday, from noon to 7:00 PM. Reservations are recommended as the tasting room is very popular among the locals.
4. Alcantara Vineyard
Alcantara is a family-owned winery that began in 2004. They have one of the largest vineyards in Arizona, encompassing 87 acres and 13,000 vines.
The winery specializes in rosé wines with aromas of lychee, cherry blossom, pomegranate, watermelon and honeysuckle. Their red wine variety is also very diverse, including Pinot Noir, Merlot, Zinfandel and the interesting Bella Dolce with aromas of Coca Cola, chocolate covered cherry, and juicy plum.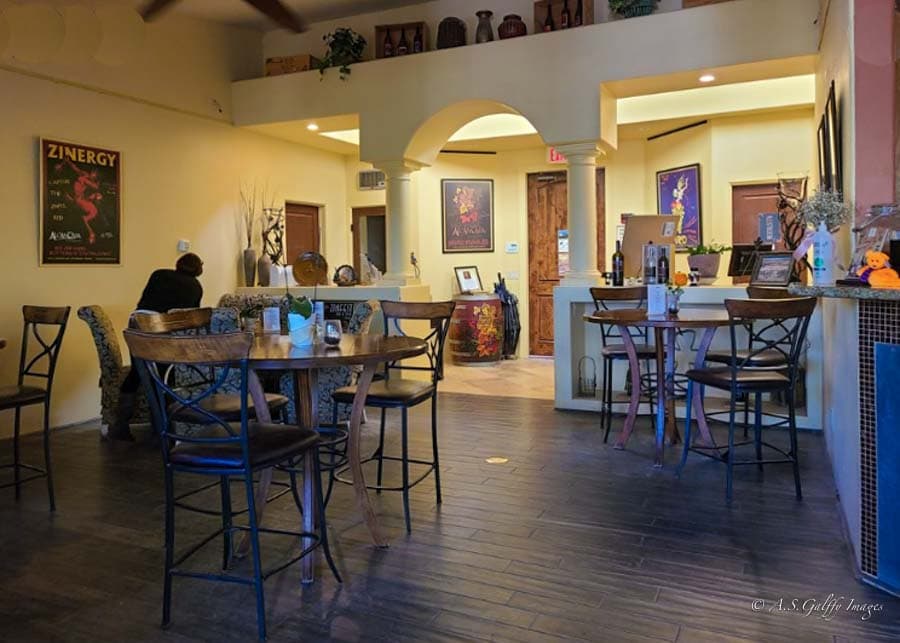 The winery is located just 25 miles away from Sedona, in a very peaceful place, surrounded by vineyards, and the Verde River. They have a very nice facility, with both indoor and outdoor seating for wine tasting and food.
Alcantara Vineyards and Winery is open Monday – Sunday 11:00 AM – 5:00 PM. On Fridays & Saturdays at 11:30 AM, they offer vineyard tours. If you plan to tour the vineyard we recommend booking a tour in advance.
5. Merkin Vineyard
Merkin Vineyard is famous all throughout Arizona not only for being owned by an award-winning song writer –Maynard James Keenan– but also for its great wines. Keenan started making wine in the mid 2000s. All his wines are produced with grapes from his vineyards in the Verde Valley and Willcox, AZ.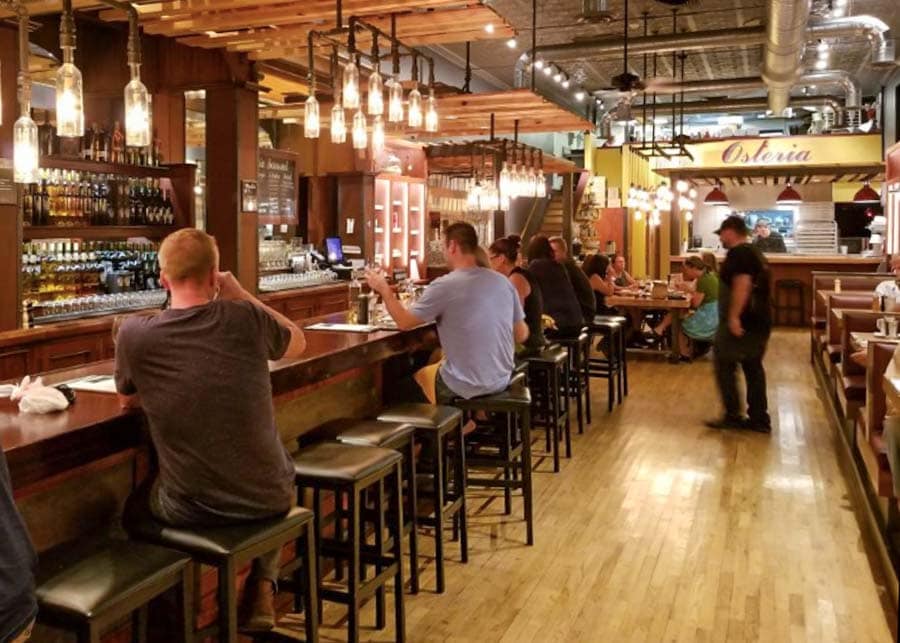 The winery has a few tasting rooms in Arizona, but perhaps the most famous is the one in Cottonwood, near Sedona. Merkin Taste Room and Osteria opened in 2016 in a renovated one-story building in the Old Town. The room is quite spacious, including a bar, four seating booths, a community table, and several smaller tables.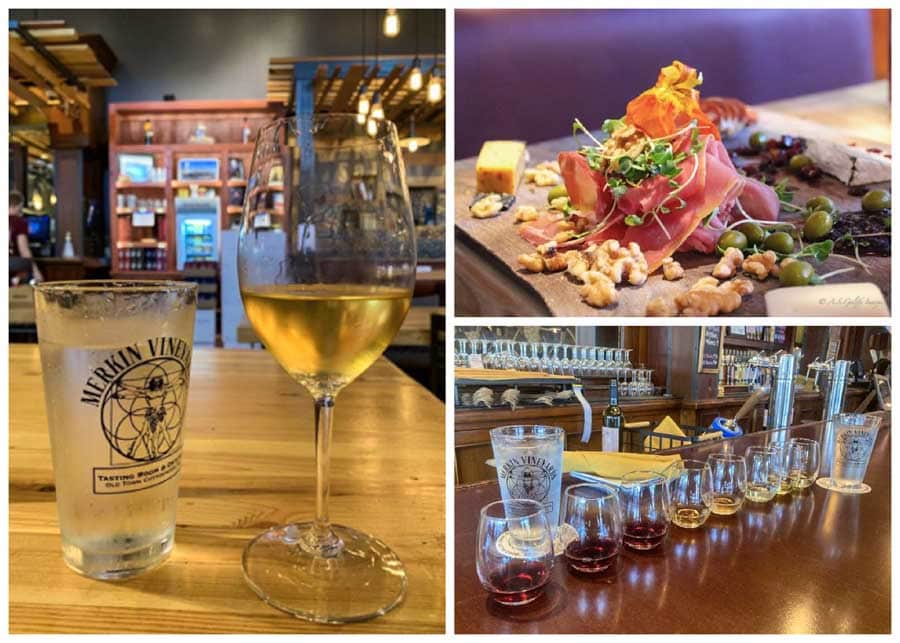 They make excellent Italian style wine and also serve delicious food, in case you want to eat here. The menu has a variety of dishes that pair up very well with the wines, like bruschetta, lasagna cupcakes, antipasti and pastas.
How to Visit the Sedona Wineries
Drinking and driving is never a good idea, especially around Sedona's curvy mountain roads. Although these wineries are in very close in proximity to each other, it's always better to have a designated driver in you are planning to go wine tasting.
If you're concerned about drinking and driving, there are several companies that offer tours to the wineries around Sedona. These companies pick up guests anywhere in Sedona and drive them to the famous Verde Valley vineyards. Depending on your budget, you can travel by limo, jeep and even by kayak.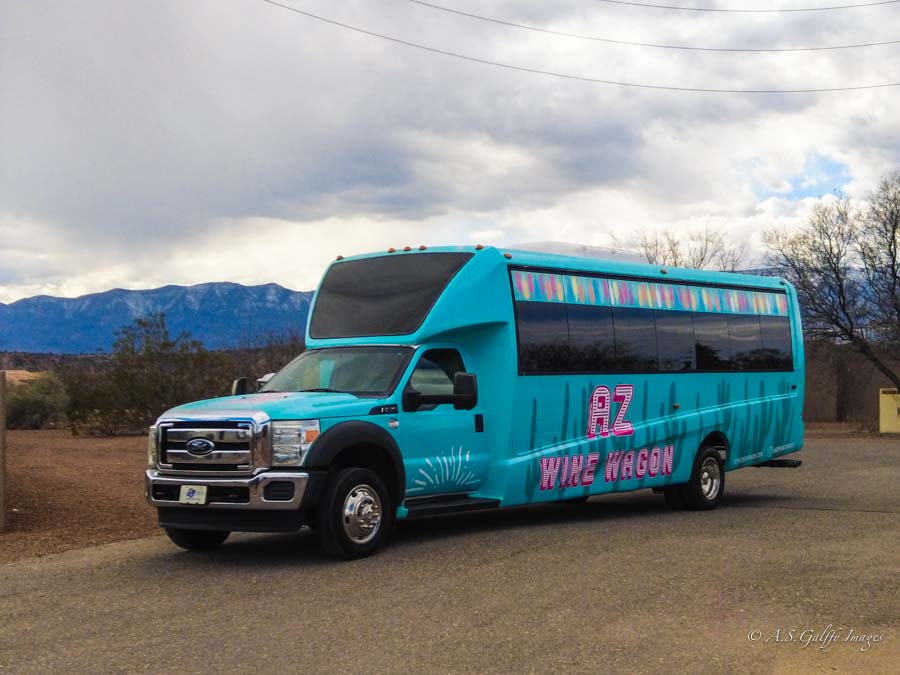 There are also private tours that offer flexible start times. You can enjoy the tour at your pace, never rushing you along the way.
If you are interested in visiting more wineries in Sedona, you can check the map of the Verde Valley Wine Trail here.
What is the Arizona Wine Trail Passport?
The Arizona Wine Trail Passport is a mobile passport that features the six regions in the state with wine tasting rooms. The passport is free and will be instantly delivered to your phone via text or email and is ready to use immediately. There is no app to download. The passport gives you discounts and has an interactive map which is very useful if you plan to visit the wineries in Sedona.
Many of the wineries on this list participate in this program. When visiting a participating winery, remember to present your phone passport to one of the staff members in order to redeem the available discounts. If you are interested, you can sign up for the Arizona Wine Trail Passport here.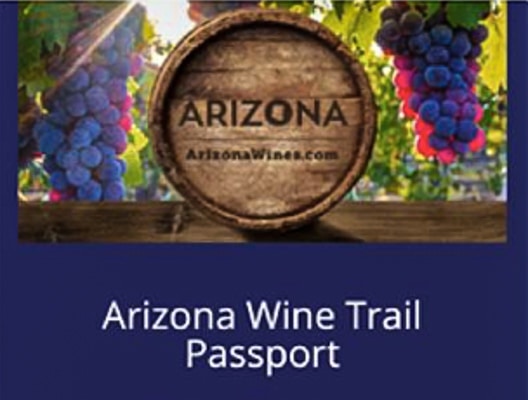 In addition to the discounts offered by each winery, if you visit at least one tasting room in three of the six regions in Arizona, you'll automatically be entered to win a wine themed gift. These gifts may be anything from an Arizona t-shirt, a tote, Arizona logo wine glasses (set of 4), or a logo wine stopper.)
If you'd like to be entered to win an annual prize from the Arizona Office of Tourism, be sure to check-in to each tasting room you visit.
How Many Sedona Wineries Can You Visit in One Day
Wine tasting is a fun a relaxing activity. To really enjoy it, you should plan on visiting no more than three wineries in a day. Most of the wineries in Sedona are open for tasting between 12:00 PM and 6:00 PM. and each tasting takes at least an hour (or more if you are touring the cellars and the vineyards).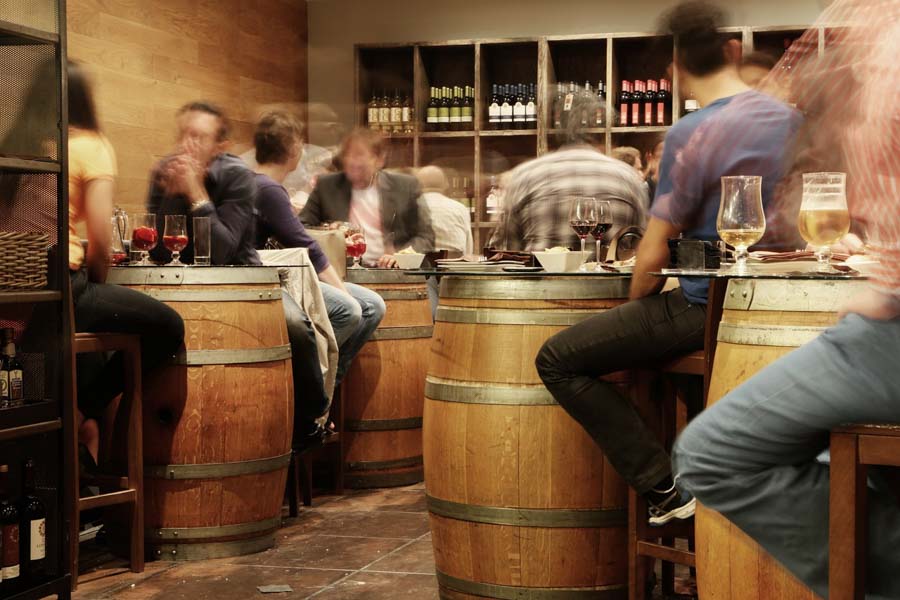 Also, wine tasting rooms usually include some basic wine education, which will enhance your experience but also extend your visit. Some wineries may feature a food pairing option as well. Or have special events, like concerts or live music. This usually happens in the summertime and on weekends.
Another important thing to consider when planning your tasting is whether you are planning to spit the wine or drink it. Most people (with the exception of a few professional wine tasters) like to drink the wine they are tasting. So in this case you'll get very drunk if you visit more than 3 wineries in a day.
If however you are visiting Sedona with the intent of purchasing some wine and plan to spit after each taste, then you can probably visit even 7-8 wineries in a day.
Where to Stay and Eat in Sedona
Sedona is a very expensive town, so if you are planning to spend the night here be prepared to spend top dollars on lodging. We've been in Sedona many times over the years and stayed at different hotels. The two that found to have best value were Arabella Hotel, and Bell Rock Inn.
Arabella Hotel
Arabella is one of Sedona's high-end hotels that provides spacious rooms with balconies, park-like grounds, a swimming pool, a dog run area, and an on-site restaurant. The hotel serves a delightful breakfast. You can choose to eat in the dining room, or outside on the patio that faces the pool area.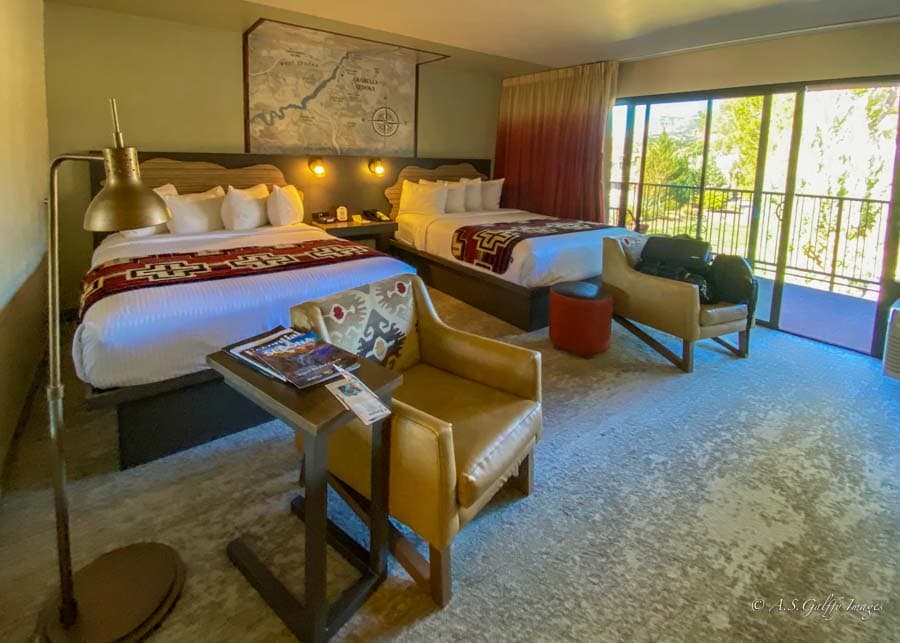 But the most appealing feature for us was the 10 minute trail behind the hotel. The trail leads to a high plateau overseeing the gorgeous red-rock formations around Sedona. Guests can walk up and down the trail both during the day and at night, when the trail is nicely illuminated by lamps.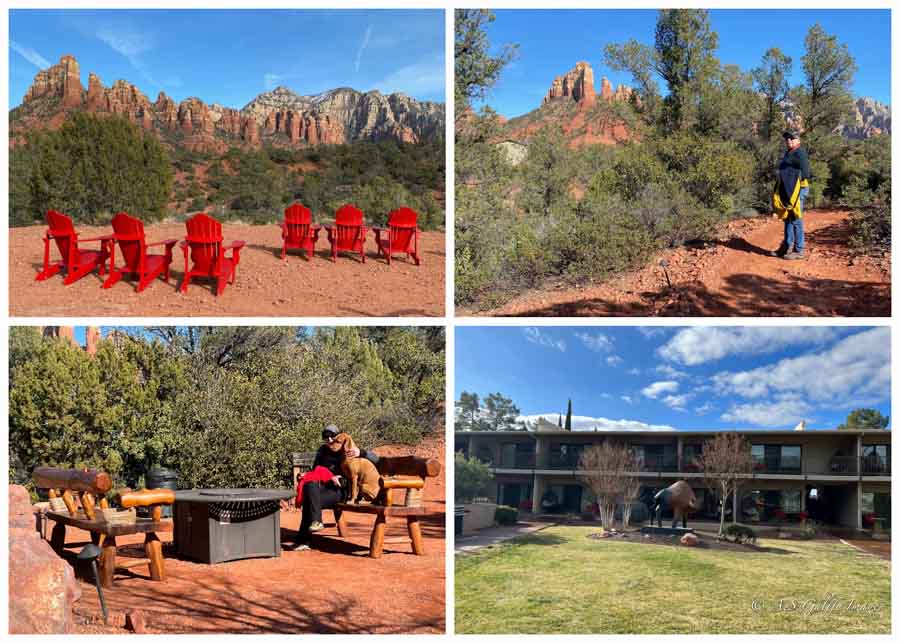 The vista point is equipped with chairs, so at night you can sit comfortably and watch the stars shining up above.
Bell Rock Inn
Bell Rock Inn is a very nice property located in the foothills of Sedona, just outside the busy city center. The resort is just a short distance away from numerous hiking trails. Rooms have fire places and air-conditioning.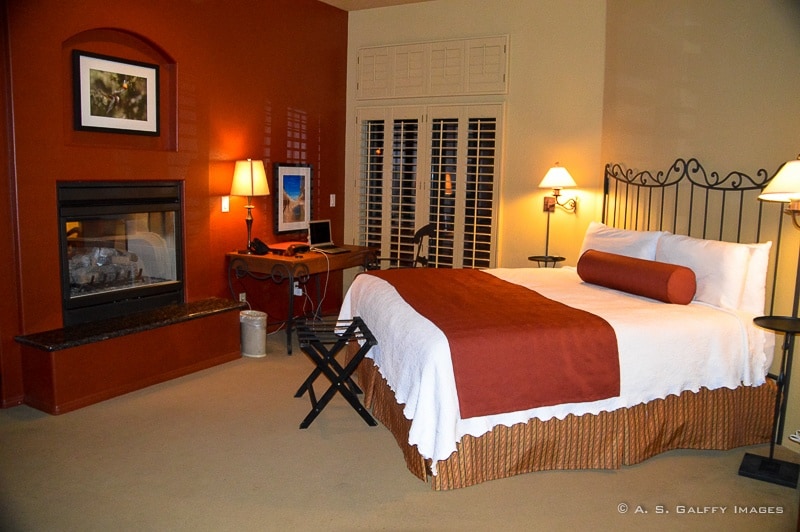 The hotel features suites with sitting areas and kitchenettes, a swimming pool and a beautiful garden. Whether you're looking for adventure in Arizona's backcountry or searching for a relaxing retreat, Bell Rock Inn's spacious accommodations will keep you comfortable year-round.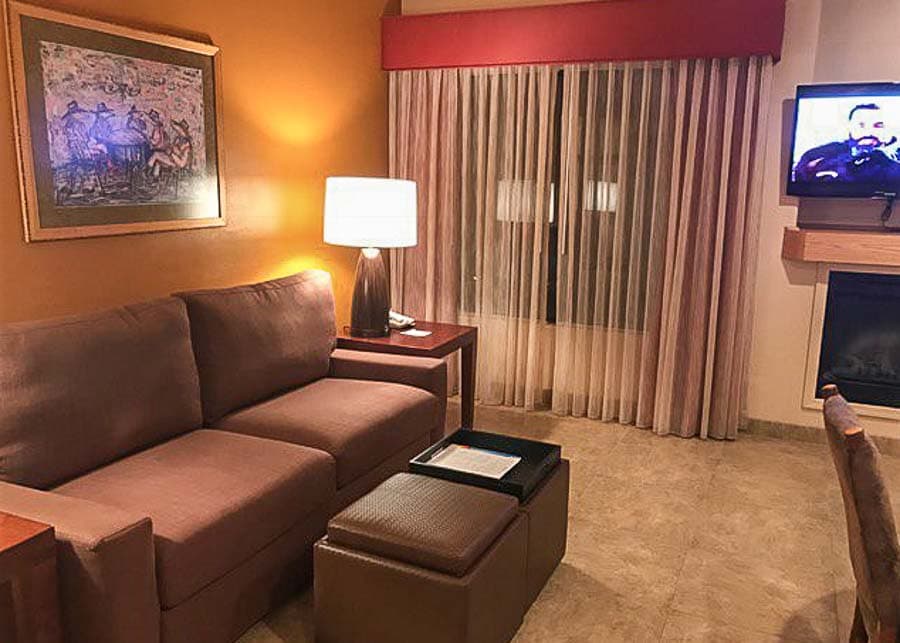 If you are traveling on a budget and need more affordable accommodations, there is a good selection of Airbnbs in Sedona worth checking out.
Stagecoach Restaurant in Sedona
Stagecoach was rated Sedona's best restaurant for handcut steaks, craft cocktails and live music. Their menu includes delicacies like Pulled Pork Egg Roll, Scottish Salmon, Bison Short Ribs, and Skillet Chocolate Chip Cookie.
From the outside, the restaurant looks a little like a cowboy-style saloon, but the interior is very upscale and modern, with beautiful lighting and a central bar. We had some artichoke spinach dip, portobello mushroom fries, smoked baby back ribs, and a filet mignon. Both food and service were excellent!
Molé Fine Cuisine of Mexico
As the name reflects it, Molé is one of Sedona's finest Mexican restaurants. The restaurant is located on the grounds of the Arabella Hotel. With its high ceilings and large tables, the restaurant's dining room gives you a sense of space that you won't have in many restaurants.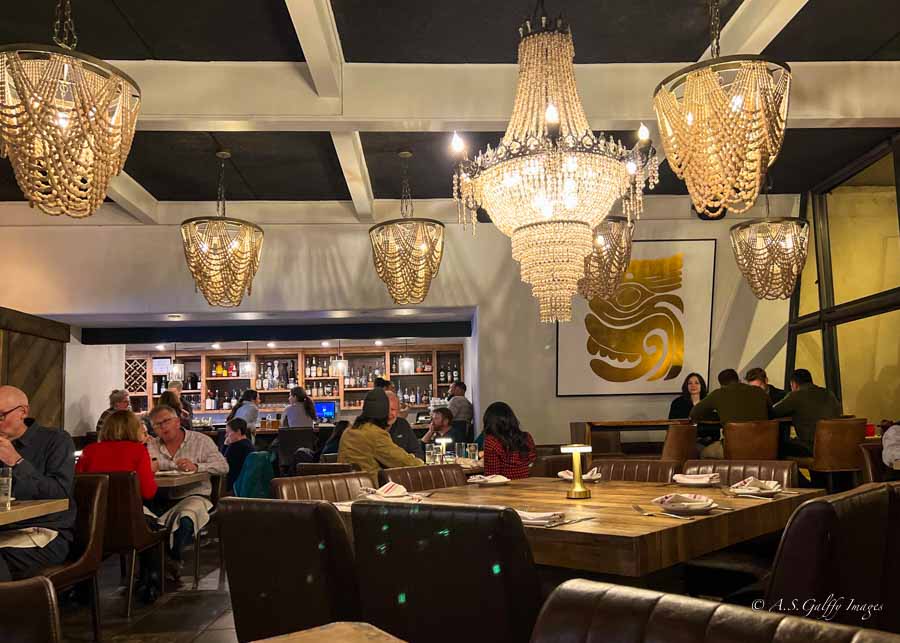 When it's warm outside, you can dine on the patio and enjoy the wonderful views of the Sedona sunsets.
The food here is out-of-this-world amazing, made from scratch daily. You can taste delicacies such as Guaca-crab "jaracho" with diced mango, Colorado lamb shank with chile molé and minted cream, or Molé con Pollo made from 32 ingredients.