How to spend one day in Perugia? Explore the highlights with these things to do in Perugina in a day.
When planning a trip to Italy, the region of Umbria gets easily forgotten, but it's one of those regions that deserve to be explored.
After spending 3 days in Tuscany, in Pienza, we decided to cross over the border of the Tuscany region into Umbria. It's a region that we are highly curious about and a region that easily gets forgotten. From Pienza, it was a little over an hour's drive.
So, we visited Umbria's capital city, Perugia.
Where is Perugia, Italy?
Perugia is a city in the region of Umbria, in central Italy. It is one of the largest cities in Umbria and one of the oldest, dating back to the time of the Etruscans. The walled historic city sits on a hill overlooking the valley of the Tiber and is one of the most important cities in central Italy.
It's also home to one of the oldest universities in Italy, the University of Perugia.
And if you're looking for a tasty itinerary, chocolate lovers are in for a treat, as Perugia is home to one of the most famous chocolate factories in Italy, Perugina. The famous Baci chocolates that we all love originates from this great city.
This post may contain affiliate links, which means we'll receive a commission if you purchase through our links, at no extra cost to you. Please read full disclosure for more information. We appreciate your support!
Chocolate is enough of a reason to visit. However, with just one day in Perugia, you can have your chocolate and explore what this charming city offers. There is plenty of things to do in Perugia, so if one day is all you have, here's what we recommend.
This article explores one day in Perugia, Italy, how to get to Perugia, and tasty eats not to miss on your tasty itinerary.
How to Get to Perugia?
Option 1: Car Rental
Having a car rental allows you to explore freely; however, it all depends on how comfortable you are with driving, your itinerary, and if you even need a rental. If you're staying in a major city with access to a train station, you may not need a car rental to make it to Perugia.
You'll want to reaccess if you plan to explore the Umbria region. A car rental, in general, would be ideal for driving in the countryside and visiting smaller towns.
Find a car on rentalcars.com.
Option 2: By Train or Bus
If you're staying in a major city, you can easily get to Perugia by train. Using Trenitalia, one of the main Italian train operators, you can quickly get from one major city to another.
Take the train to Perugia Fontivegge Railway from the station you will need to get to the historic center. The fastest way to get to the city center is to take a taxi or the mini-metro.
Taking a bus is also an option. It all depends on where you're staying, but there are direct bus transfers to Perugia.
Book your tickets in advance. Click here for train schedules and info; if a bus transfer option is available, it will come up.
Day Trip Examples:
Day trip from Florence to Perugia by train is a one-way 1 hr 14 min direct train ride or a 2 hr 25 min bus ride.
Day trip from Assisi to Perugia is a one-way 22 min train ride.
Day trip from Siena to Perugia is a one-way, 43-47 min train ride.
Day trip from Arezzo to Perugia is a one-way, 47-57 min train ride.
From Rome to Perugia is a 2 hr 42 min train ride one-way or by bus, it's 2hr 15 mins.
Option 3: Hire a Driver or Book a Guided Tour
One Day in Perugia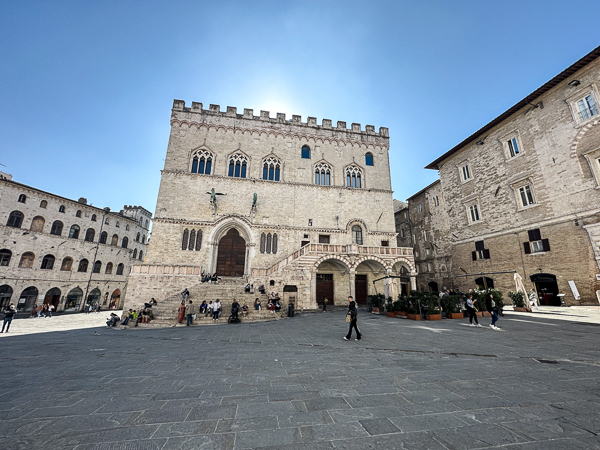 How do I spend a day in Perugia?
When you visit Perugia for the day, you'll want to explore some of the city's highlights. Explore the historic city center, stroll along the ancient Roman aqueduct, visit Rocca Paolina, and find the gateways into the city. Don't leave Perugia without stopping at Perugina for the city's famous chocolate.
Is Perugia worth visiting?
Yes, Perugia is worth the visit. As one of the oldest cities in the region and Italy, the history alone is worth exploring. University cities are always great to visit as the cities are usually lively, buzzing with energy, and plenty of things to do.
Is Perugia, Italy, a small town?
No, Perugia is not a small town. It's the largest city in Umbria and one of the largest cities in Italy. Over 160,000 people reside in Perugia, making it the topmost populated city in Umbria.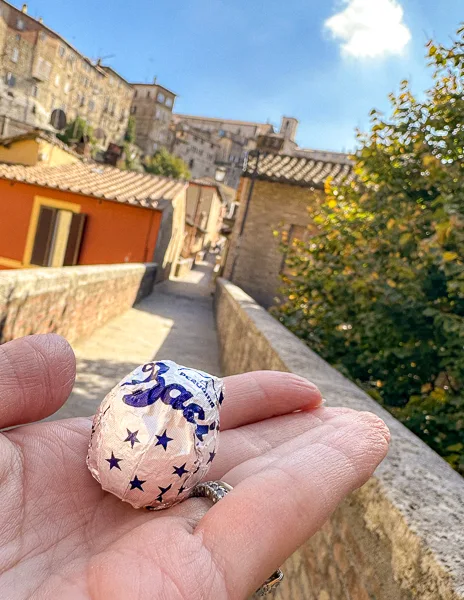 What's Perugia famous for?
Perugia is famous for its chocolate, their biggest chocolate manufacturer is Perugina. Baci chocolates are one of the most famous Italian chocolates produced in Perugia.
Things to Do in Perugia in a Day
With one day in Perugia, you can't see everything, but you can experience the city's highlights. You can get around the city easily on foot and make your way to the important landmarks we list below.
When we arrived, we were surprised by the size of the city and how busy it was when visiting Italy in October. It had the same liveliness reminiscent of Bologna, probably because it's another university city.
We made the most of one day by walking around, ticking off some of the city's highlights, stopping for a panini, and eating too much chocolate.
You can always plan to arrive in Perugia and have a guided tour booked to make the most of your day.
Tour Ideas:
Perugia Private Walking Tour [book here]
Taste Perugia Food Tour Led by Local [book here]
Perugia 2–Hour Small-Group Walking Tour [book here]
Lookout for the Gates & Arches in Perugia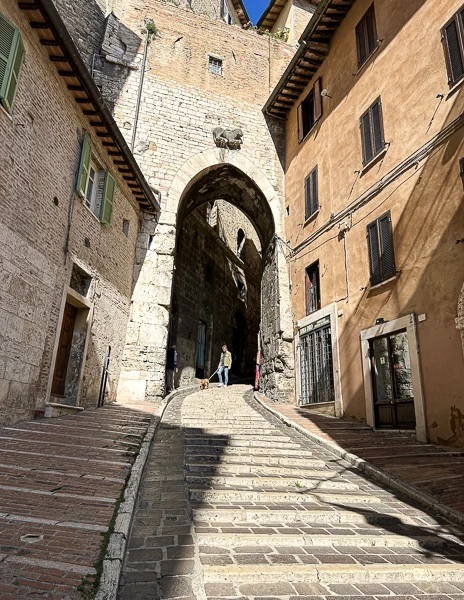 There are different entrances to this walled city. There are 6 gates along the wall, but in the city of Perugia, there are 22 gates and arches. Just seeing and walking through one of these gates and arches is almost like being transported back in time.
You could spend the day discovering them throughout Perugia. It's one of those historical cities that can be explored one corner at a time if you're there for more than a day.
Arco Etrusco
One of the city's main attractions is the Etruscan Arch, Augustus Gate. Upon seeing it, one cannot help but be astounded by its grandeur. Built-in the 3rd century BC, it marks one of the best-preserved Etruscan monuments in the city.
Explore Perugia's Ancient City Center
All streets lead to Perugia's historic city center… or so it felt that way. Just keep going uphill. Every alley or street we went down or around felt like it led us back to the city center.
Perugia's city center shows how prosperous the city was; its majestic Cathedral, Palazzo dei Priori, Corso Vannucci (the main boulevard), and Piazza IV Novembre.
While exploring the city center, you'll have to wade through some more touristy areas, but don't let that deter you from exploring. The city is full of hidden gems and historical landmarks.
If you're looking to do some shopping, the main drag of Perugia, Corso Vannucci, will have all the high-end shops and boutiques.
One Day in Florence, Italy
Are you planning a day in Florence, Italy? We have compiled three itinerary options for a day in Florence that can easily turn into three days. See how to spend a wonderful day in the city of Renaissance.
Visit the Piazza IV Novembre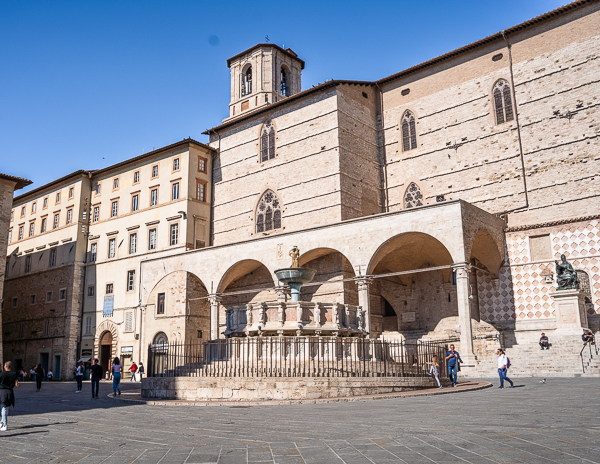 Piazza IV November is one of the most iconic piazzas in town, the heart, and one you won't miss, as 5 roads in the city center lead you right into this square. You can also see the square as a fork in the road; which street would you like to go down next?
This prominent square is where the city gathers for events and celebrations. You can find the Cattedrale di San Lorenzo, the Palazzo dei Priori, and one of Perugia's grand attractions, the Fontana Maggiore.
Fontana Maggiore
The Fontana Maggiore is one of Perugia's well-known landmarks. The fountain was built in 1278 and is one of the most unique ones we've seen. It is made up of two basins, one on top of the other, the second being held by small columns inside of the bottom of the basin.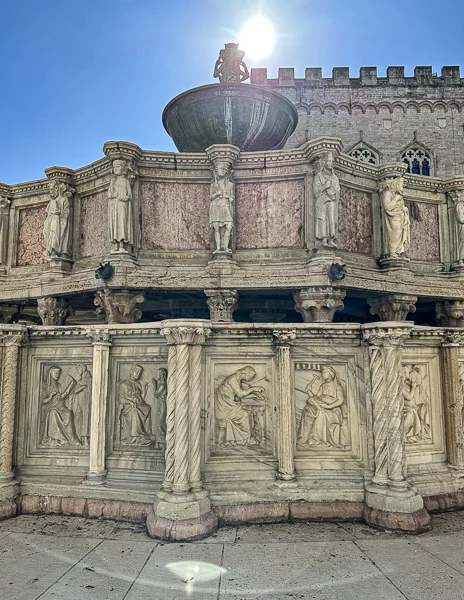 It's one of those monuments that one should take the time to admire and explore. It's intricately designed with a mixture of religious symbols and secular figures from the Old Testament, making it one of Perugia's most stunning sites.
The execution of this fountain coincides with the completion and celebration of the Roman aqueduct.
Quick Lunch at La Bottega
Piazza Francesco Morlacchi
4, 06123 Perugia PG, Italy
Google Map It
Not far from Piazza IV Novembre is Piazza Morlacchi, where you'll find La Bottega. Go west and onto Via Maesta delle Volte, follow that down to Piazza Cavolloti, and then left onto Piazza Morlacchi. There you'll find a few spots to eat.
When you see locals patiently waiting in line and gathering outside an establishment to eat, you have to find out what it is. Timing perfectly with a late lunch, we came across this scene, and everyone was eating paninis—one of the best quick and cheap lunches in Italy.
We stood in line and ordered paninis from La Bottega's menu. These sandwiches were hand-prepared to order. The best part was that it cost us less than 10 euros for two sandwiches and two glasses of water.
This is a great grab-and-go lunch when you're short on time and want to make the most of your day.
Via dell'Acquedotto
Afterward, we headed to Via dell'Acquedotto to see the Medieval Aqueduct, presently a pedestrian walkway.
Romans engineered the earliest form of the aqueduct, but it was restored many times in the middle of the ages.
When we read about the aqueduct, for some reason, we were expecting a grand structure. So while it is a cool part of history in Perugia, what is left of the aqueduct is fairly small, and a quick short walk over it.
It is a pretty scene arriving at Via dell'Acquedotto, having a beautiful view of part of the city of Perugia. You can stop here to take photos, or you can continue on your journey across the aqueduct. On the other side, you'll find a quieter side of Perugia with residential structures and other local businesses outside the touristy areas.
Explore Rocca Paolina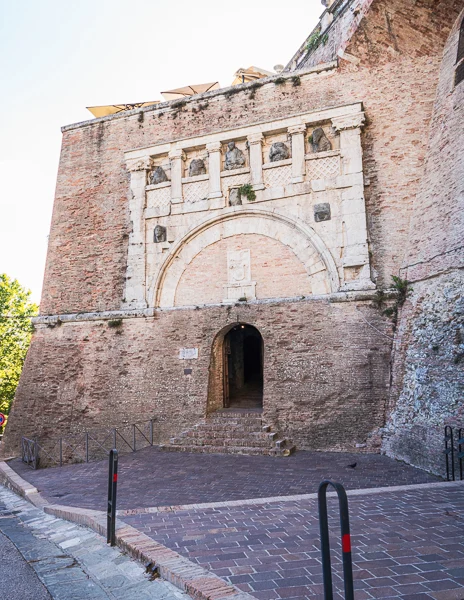 If you still have time in the day, one of the top things to do in Perugia is Rocca Paolina. This fortress was built in 1540 and is one of the most important monuments in Perugia.
This fortress was built in 1540 and later destroyed in the 1800s. In 1965 it was rediscovered and excavations began, bringing back this underground city in Perugia. There are 4 entrances to Rocca Paolina, and you can walk down one of the many tunnels and explore the chambers, one leading to another in this fortress.
What's cool about Rocca Paolina is that the escalators built inside that take you from one part of the city to another.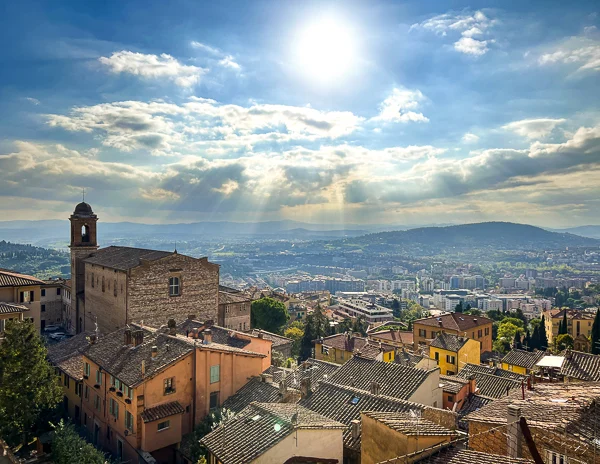 Also, at the top of Rocca Paolina are some incredible views worth stopping for.
Visit the Official Perugina Shop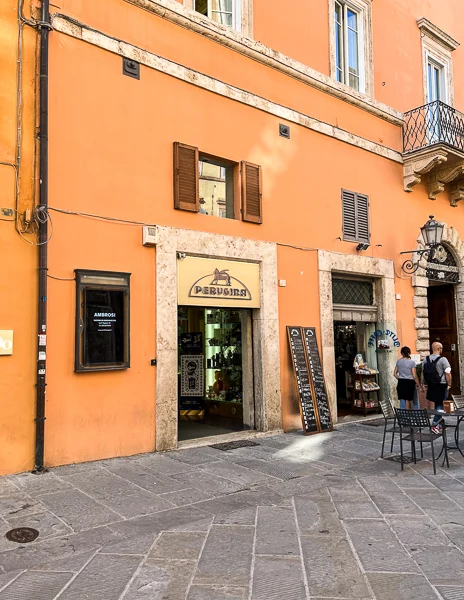 One of the top things to do in Perugia, especially if you're a chocolate lover, you can't forget to stop by one of the most famous chocolate shops.
Perugina is one of the best-known chocolate brands in Italy, and one has to buy a few chocolates to eat right there and then.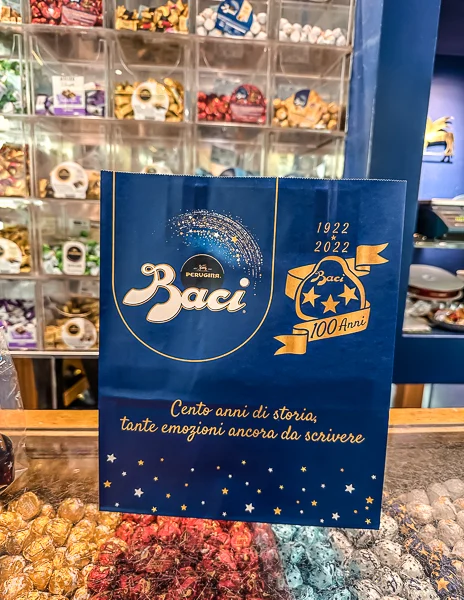 You'll see Baci chocolates sold all over the city and in different shops, but Perugina is the official shop. You will find Baci chocolates of different flavors, ones you've never seen back home. Also, different types of mixed chocolates and confections are only sold in Europe.
Fun Fact: Did you know that inside every Baci wrapper, there is a little note with quote or phrase in them in Italian. It will also have the translation in English. It's a tasty and fun way to learn Italian phrases.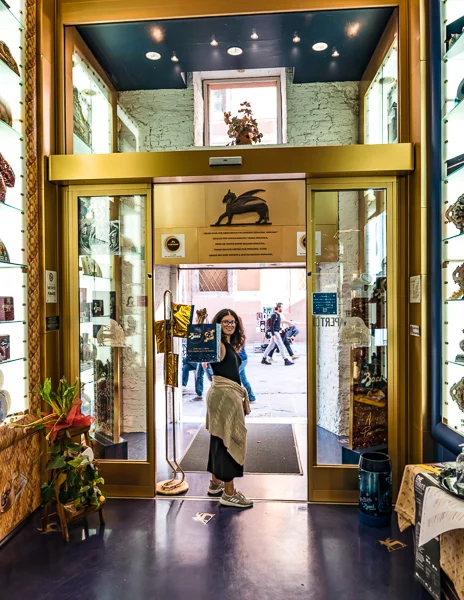 Let's not forget to buy a few gifts to take home. This is a great spot to shop for edible souvenirs to take back home with you.
The official Perugina chocolate shop is located in Corso Pietro Vannucci, 101, 06123 Perugia PG, Italy (Google Map It)
Good to Know: The EuroChocolate Festival takes place every year in Perugia during the Springtime. It would be a great time to visit this fantastic city.
Optional: Visit Casa del Cioccolato Perugina
If you plan your day trip to Perugia, you can probably fit this in at the start of your day. We didn't think of it until later, unfortunately.
You can reserve a tour of the Perugina Chocolate Factory and Museum, locally known as Casa del Cioccolato Perugina (which translates into The House of Chocolate Perugina).
It's right outside the city center of Perugina. For logistical purposes, plan to tour it either at the start of your one day in Perugia or at the end of it.
You can book a directly with Perugina.
Other Tour Ideas:
Small-Group Tour: Chocolate Factory, Perugia & Spoleto [book here]
Perugia Private Tour with Lunch & Perugina Chocolate House [book here]
Other things you can do in Perugia:
Don't forget to share the love on Pinterest: