There are plenty of fitness apps on the market today, and most fall into the category of "Forgettable and Redundant." Fortunately, certain apps work great and provide unique benefits. For example, Hevy is an excellent workout tracker, Fitbod offers unique and tailored workouts, and Alpha Progression guides the training experience.
Of course, each of these apps is more nuanced, which sets them apart and makes them unique in their category. However, a variety we have yet to promote is online fitness classes. Today's guide will introduce you to FitOn; we will teach you what the app is, what makes it great, how to get started, and how to secure a 10% discount on their PRO version. Let's dive in.
FitOn – Get your Home Workouts On
Lifting weights at the gym, playing sports with your friends, and jogging in the park are fun and engaging activities that offer unique benefits. But what if you are too anxious to exercise in public, can not afford a gym membership, or prefer the comfort of your home? Is it possible to have effective workouts in the middle of your living room, or is that a myth we repeat to feel better?
The truth is that home workouts can be effective because there are countless good activities and numerous ways to combine them into solid workout sessions. But, as with most things, a bit of guidance can go a long way in helping you make the most of your training and reap great rewards.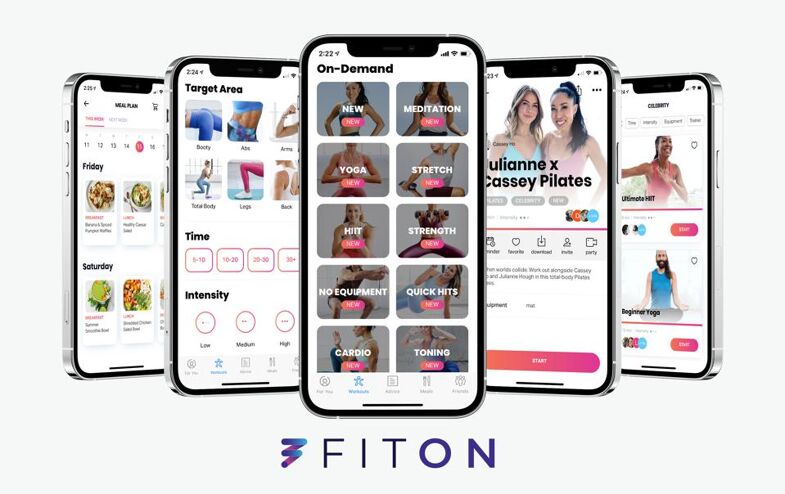 FitOn is an app that provides numerous simple and effective exercises, most of which do not require any equipment. So, you can get your fitness at home instead of purchasing expensive home training equipment or spending money on a membership.
Get on-demand Exercise Programs
A drawback of many fitness apps is the need for more concrete guidance when it comes to working out. Sure, you get helpful tips and can log your training, but you are still left to piece everything together into an effective workout plan. The great thing about FitOn is that you get on-demand exercise programs you can follow and modify to fit your needs and desires.
The platform live-streams more than ten classes daily. You can also pick from their ever-growing catalog of on-demand selections, including yoga, high-intensity interval training (HIIT), circuits, boxing, Pilates, dance, barre, meditation, and stretching.
And if you do not know where to start, you can filter classes based on intensity (low, medium, or high), length (as little as 5 minutes or over half an hour), target muscle group, or your favorite trainer. Many classes are taught by celebrity trainers or celebrities themselves, like Gabrielle Union and Jonathan Van Ness.
Find your perfect Fit
As mentioned in the previous point, FitOn offers workouts and classes in several broad categories, including:
Strength – pick from various fast and slow-paced workouts designed to build whole-body strength and muscle mass.
Cardio – strengthen your heart and boost your aerobic capacity with FitOn's fun and challenging cardio workouts that don't require fancy machines.
Yoga – center yourself and become more flexible with the wide range of yoga sessions designed for yogis of all levels.
Stretch – follow along a pre or post-workout stretch routine or find a dedicated class to improve your mobility and flexibility.
Meditation – looking to become more mindful? Use one of FitOn's guided meditations to boost your well-being.
What is most impressive about FitOn is the sheer flexibility. No matter who you are and what goals you aspire to achieve, the app will likely provide something that will benefit you in many ways. 
For example, you might have a strength program, but what is stopping you from exploring fun cardio sessions or getting into meditation? Alternatively, you might prefer cardio, but you can still experiment with other beneficial activities like strength training, yoga, and meditation.
FitOn gives you the option to choose what activities to try. Even better? You do not have to start from scratch.
Best of all? Get fit without any Equipment.
Finding the right fitness equipment for your training can range from a minor inconvenience to a huge hassle. Visiting your local training facility might not always be an option, and finding decent gyms on the road can feel impossible.
The great thing about FitOn is that you can reap all of the benefits discussed above, even if you do not have any equipment. Some of the available workouts require basic equipment, but most do not.
Is FitOn Pro worth it?
FitOn is one of the few apps that work great, even if you do not spend money on a pro plan or in-app purchases. You get plenty of routines and guidance to set yourself on a better path. In other words, you get a fully functioning app for free if you do not mind getting interrupted with ads.
With that said, FitOn also offers a Pro version that genuinely lives up to the hype. Unlike many apps that barely provide anything on a subscription or bombard you with countless useless features to justify the cost, FitOn only offers the best.
Here are the features you would get on a Pro plan, in addition to all of the free workouts:
1. Music
Do you not like the in-app music and instead prefer to listen to some pop, rock, or even metal? No problem. FitOn Pro allows you to listen to the music you choose and motivate yourself to work harder than ever before.
2. Screencasting
FitOn is a phone app, but that does not mean you have to restrict yourself to the small screen. With the pro version, you can screencast your workouts onto a bigger screen: a laptop, desktop, or TV. One user says the experience is like being part of a group fitness class. 
The feature is also great for traveling and working out in your hotel room.
3. Nutrition Planning
Proper training is essential, but it is one side of the coin. Nutrition is equally (if not more) important for making the best progress and reaching your goals. The good news is that you do not have to figure out the nutritional stuff alone. FitOn Pro comes equipped with excellent nutritional planning features. 
You answer a few basic questions, and the app provides a huge list of practical recipes to fuel yourself.
4. Offline Accessibility
FitOn is great when you have an internet connection, but what happens if you do not? Well, FitOn Pro offers an excellent solution in the form of offline accessibility. You can download the workouts you plan on doing ahead of time and have full access to them even if you are offline later.
5. Heart Rate Monitoring
FitOn Pro offers heart rate monitoring, which you can access by connecting the app to your fitness tracker (Samsung, Garmin, Fitbit, etc.).
How much does FitOn cost?
As far as the cost goes, FitOn costs $29.99 for one year, which is a steal when you consider how much you would spend on other fitness apps and a nutrition program. To compare, Apple Fitness+ costs $9.99/month or $79.99 annually.
Now it gets even better! Thanks to our collaboration, we can offer a promotion price. We can offer FitOn Pro with a 10% discount on your yearly subscription. Simply get your code via our online store, and use "HOTELGYMS10" to get this fantastic fitness app for only $26.99. Your license code will be delivered in less than a minute.
Active your FitOn Pro Subscription using a Code
To active your new FitOn Pro Subscription, follow the instructions bellow:
Install FitOn from the Apple App Store or Google Play Store.
Sign-up for a free account using your e-mail address.
In the app, navigate to Profile >> Settings >> Tap "Redeem Promo"
Enter your promo code (separate e-mail from SendOwl)
Enjoy unlimited access to FitOn PRO! 
That is basically it, and you got your subscription for only $26.99.
What others say about FitOn
FitOn has been around for several years and is gradually building up a solid following of fitness enthusiasts who crave simplicity. The app's average rating on Google Play and the App store is an impressive 4.8 out of 5, with more than 376.000 reviews.
Unsurprisingly, one of the primary things people love about the app is how easy it is to gain access to an effective equipment-free workout.
Here is what some people wrote about the app: "Best free exercise app out there for women. Fantastic instructors and so many options. You can choose a program to follow or go through and choose your own exercises each day. They add new ones all the time.
-Shaylin
I honestly think this is the BEST workout app to exist. They provide videos with clear instructions on what to do. They have everything in sections of what you want to work out, and they have different intensity levels and much more. This is my go-to workout app for whenever I'm motivated to get fit. It's just amazing. Highly recommend giving it a try.
-May
Makes working out at home easy and gives variety in intensity and time. The trainers are engaging and supportive. The app is user-friendly, and I can pull up my account on the TV as well to work out with a larger screen, almost like being at the gym. It even will send you a particular workout on a particular day if you want to set up a routine. I've enjoyed this app.
-Kay
How to get started with FitOn
To get started with the app, head to Google Play or the App Store and download it. 
1. Sign up (you can use a Google or Facebook account), and fill in your profile:
Gender
Date of birth
Height
Weight
2. Select your goal:
Lose weight
Boost your activity level
Build muscle
Stay toned
Reduce stress
3. Pick your level: beginner, intermediate, or advanced.
4. Mark how often you can train each week, ranging from twice to 5+ workouts.
5. Decide how long you would prefer each workout to be, from as little as 5-10 to 30+ minutes.
6. Pick your favorite classes: cardio, strength, HIIT, dance, kickboxing, meditation, etc.
7. Select your wearables (Fitbit, Oura, etc.) and streaming services (Apple TV, Chromecast, etc.).
Once you go through the setup, the app will present you with your first class.
The app also lets you connect your calendar and set up reminders for working out. For example, the app can send you notifications every morning at 8.
What we think of FitOn
FitOn is an established app that has been around for several years, and its free version is solid. In addition, the app offers numerous options for follow-along workouts, most of which do not require any equipment.
If you have read our blog for a while, you know how much we emphasize simple and practical approaches, especially for traveling. It is no secret that being on the road can get in the way of fitness because most people need to know what workouts to do and do not have any equipment.
One option is to visit your hotel gym, but what if that is not an option? The available training facility might have little equipment, forcing you to rely on bodyweight workouts to maintain your fitness. (By the way, check out our GymFactor tool to find the best hotel gyms for your travels.)
Another option is to focus on equipment-free training and use an app as guidance. We can confidently say that FitOn is an excellent app because it offers countless workouts for numerous training styles and pushes you to work harder than ever. And with only $26.99 (use HOTELGYMS10) for one year, all the extra features get unlocked.
Final Words
If you are interested in an app that does it all for you by providing countless simple, effective, and equipment-free routines, FitOn is undoubtedly one worth considering.
The app has been around for a few years and has established itself as one of the best options on the market. Even the free version works perfectly and provides everything you need to start your fitness journey, get inspired, and stay fit on the road.
FAQ
Is the FitOn app really free?
Yes, the app is free, and there is no catch. Your data is not sold or used to target ads. In the words of FitOn: "At FitOn, we are dedicated to building a next generation health & fitness platform and we simply don't want any barriers holding people back from being able to leverage the product and all the workouts from our amazing trainers to improve their health & happiness."
While there is a paid/pro component for features like downloading, most of the app is free.
What Equipment do you need?
Most videos do not require equipment beyond a yoga mat and free weights. Some videos can require heavier sets of weights, but there are plenty of options for bodyweight-only exercises if you are limited on equipment. However, you will need a bit of space to workout.