If you're anything like me, you probably take a lot of photos. One of the great things about digital photography is that we aren't limited by how much film we can buy, carry, or develop. Digital photography has made taking photos easier and cheaper, and as a result we take a lot more photos than we used to do in the film era.
On a trip in the 1990s, I may have taken 4 rolls of film for a 2-week trip. With only 144 photos possible, this meant I thought about each snap. But today, I could easily take that many photos in a single day!
However, the downside to this digital freedom is that whilst you likely have a great many photos, you might also find yourself not doing as much with them as you would like. In fact, many people rarely look back at the photos they have taken.
Whilst it's nice to have all those photos stored on our phones, memory cards, computer hard drives, or digital servers and available to be viewed at our whim, the sheer number of photos most of us have stored means that we don't get to see most of these photos on any regular basis. It can also be hard to find our favorite photos among the thousands of photos we have taken and saved. So maybe it is time to change that!
Many of us over 30 years of age, not only have a lot of digital photos, but also have printed film photos and strips of film negatives lurking about in boxes, envelopes, and photo albums.
I wanted to share some ideas for displaying photos so you can see your images on a more regular basis, to bring back happy memories of trips, friends, family and other events in our life. After all, you took those pictures to look at them!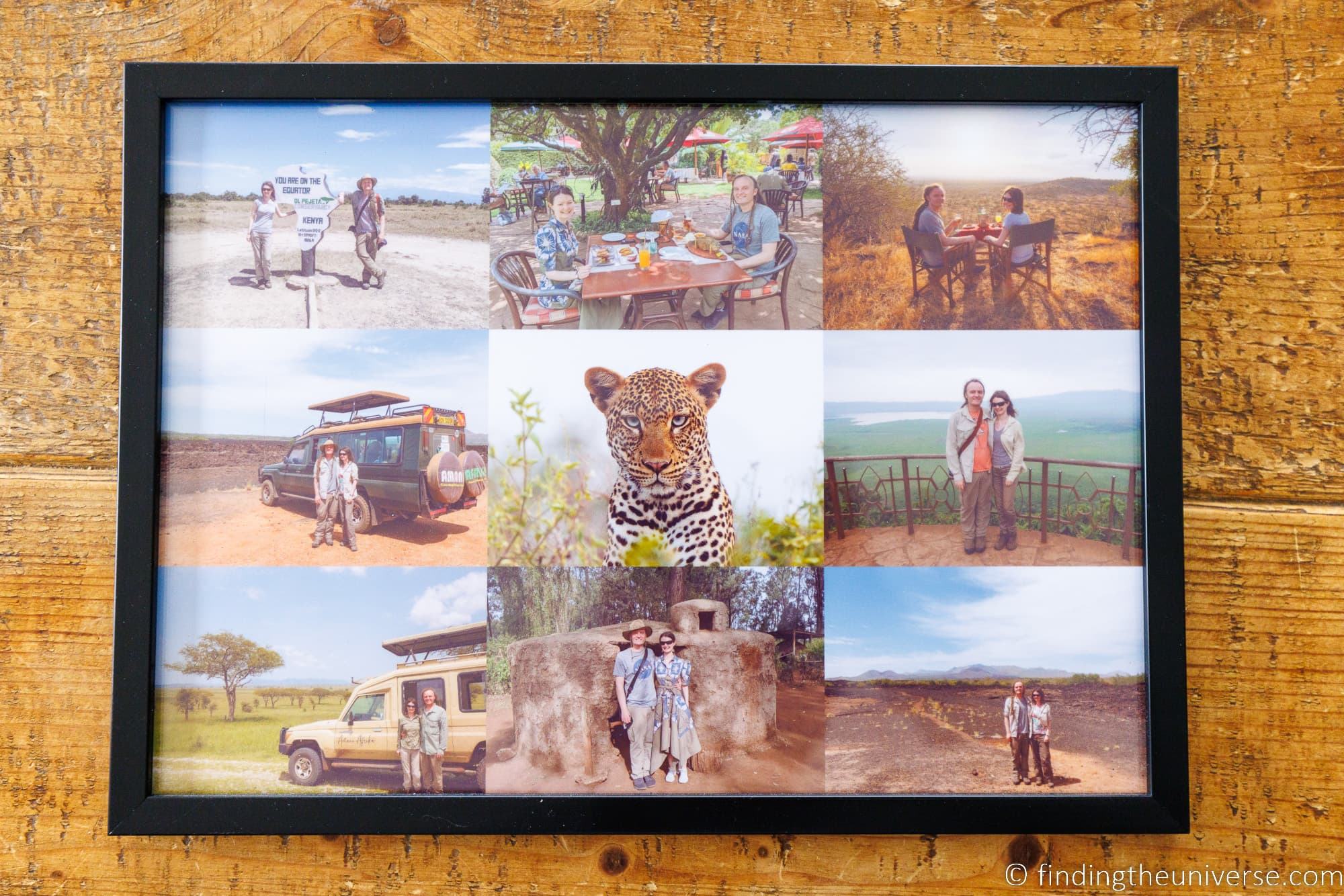 There are lots of options for displaying your images, both for displaying images both physically and digitally, which we will go through. Let's get started.
Photo Display Ideas
I'm going to share options for displaying your images both physically and digitally. They can both be good options, and we find they complement each other. Let's start with the physical options and then cover the digital options.
Print them for display around your home
Perhaps the most obvious option is to print your photos out and display them around your home. You can either print them to be displayed in frames, or you can print them in larger formats such as on canvases to hang.
There are a wide range of printing options available to you for photos. These range from smaller 4×6 prints you can pop on a mantlepiece, to larger canvases or framed prints that can hang on a wall.
This is a great way to highlight some of your favorite moments and see them regularly.
You can print your photos in a number of ways. First, you might consider investing in a photo printer. However, you will want to consider the cost of photo paper and ink, as well as how often you plan to use it and the size of image you want to print.
It might work out more cost effective to just print your photos using an online or in-store service.
There are a number of online services where you can print out a wide variety of photo formats and get them delivered to your door. Popular options we have used include Shutterfly and Snapfish, but there are many to choose from.
You can do everything from printing photos to put into your own frames, through to ordering framed prints, canvas prints and much more.
If you have your photos hosted on a photo sharing or portfolio site like Smugmug, these also often have the option to print your images. You can see our review of photo portfolio sites here, and SmugMug here if you were thinking of setting up your own site.
Alternatively, there are also in-person printing facilities at some stores. These normally allow you to upload an image from a USB memory stick or a camera memory card, make some basic tweaks to the image, and then print them out right in front of you.
We often find that pharmacies like CVS in the US and Boots in the UK for example have photo printing capabilities, both in-store and online.
We have tried all the above options, and each has worked well for us for printing physical copies of our photos.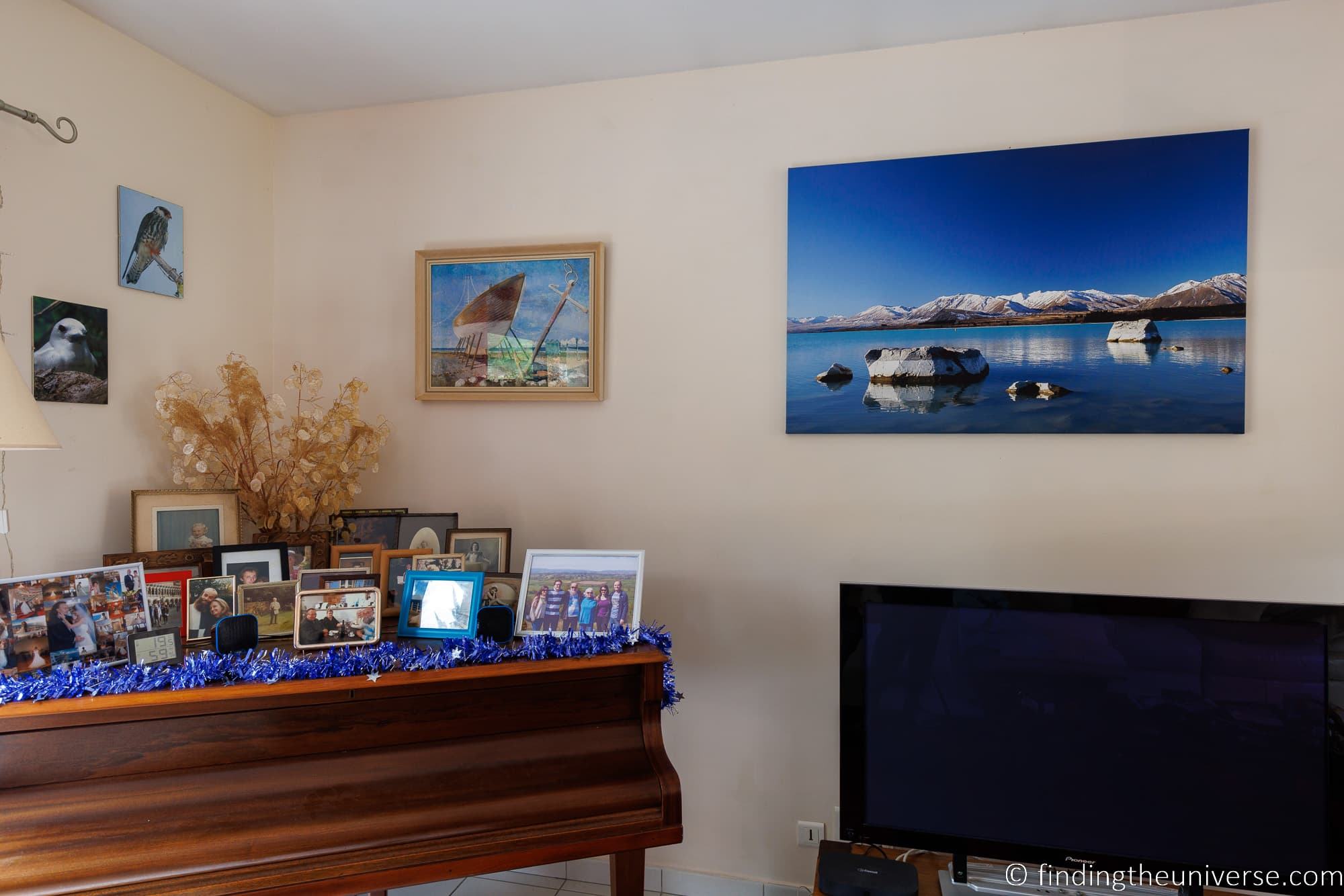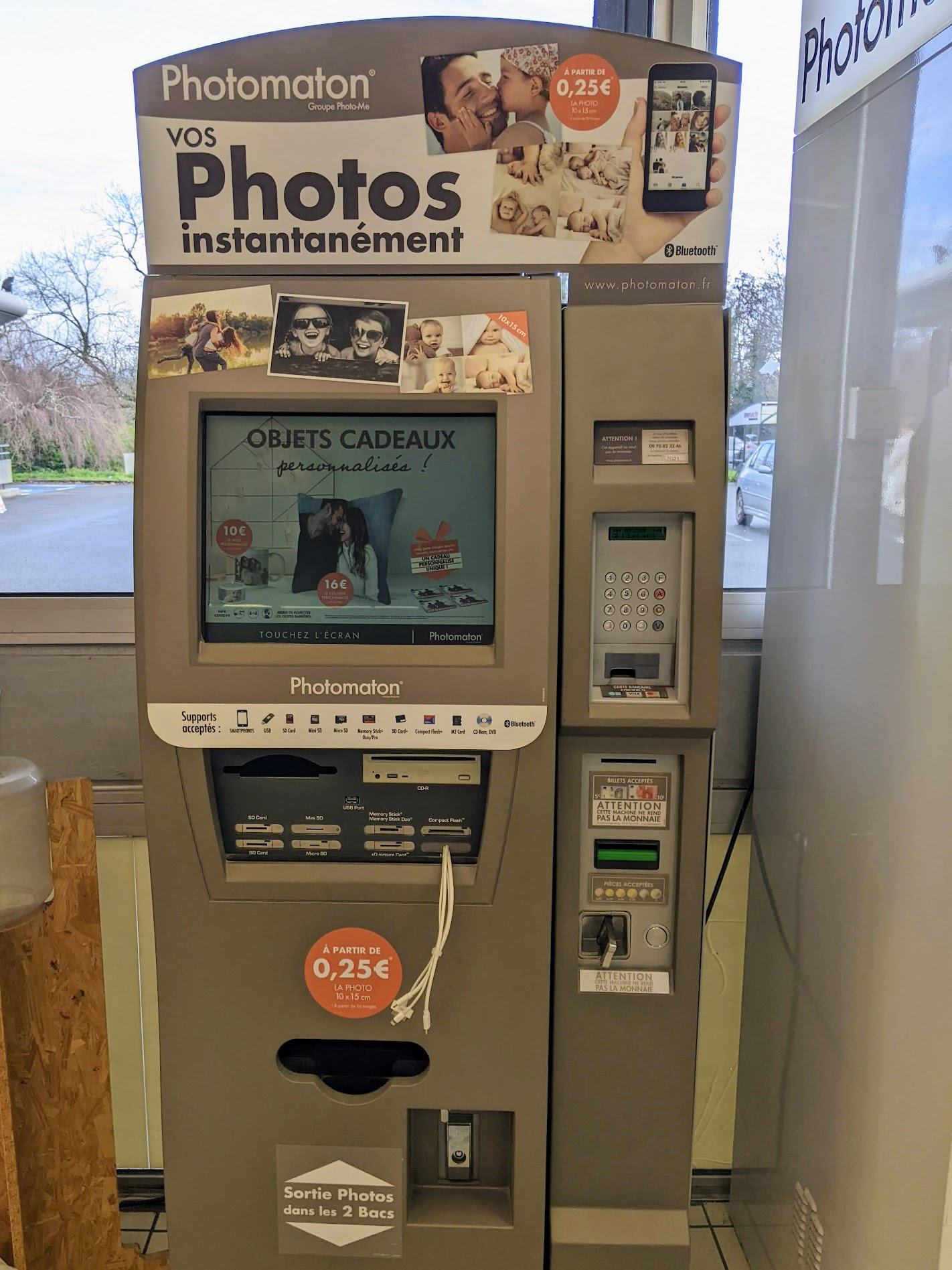 Photo Albums
One of the more traditional ways to store printed photos is in a photo album. This can be a good way to store a selection of images from a trip in one place, and they can be fun to go through from time to time.
If you already have a large collection of printed photos, then a set of photo albums can be a great way to organize them.
There are a wide range of photo albums available. We like to have different styles of photo album for different trips, but you might prefer to have matching albums for all your images!
You might also prefer to do something more creative with some of your photos rather than use a photo album, so take a look at some of our other ideas for displaying your photos as well.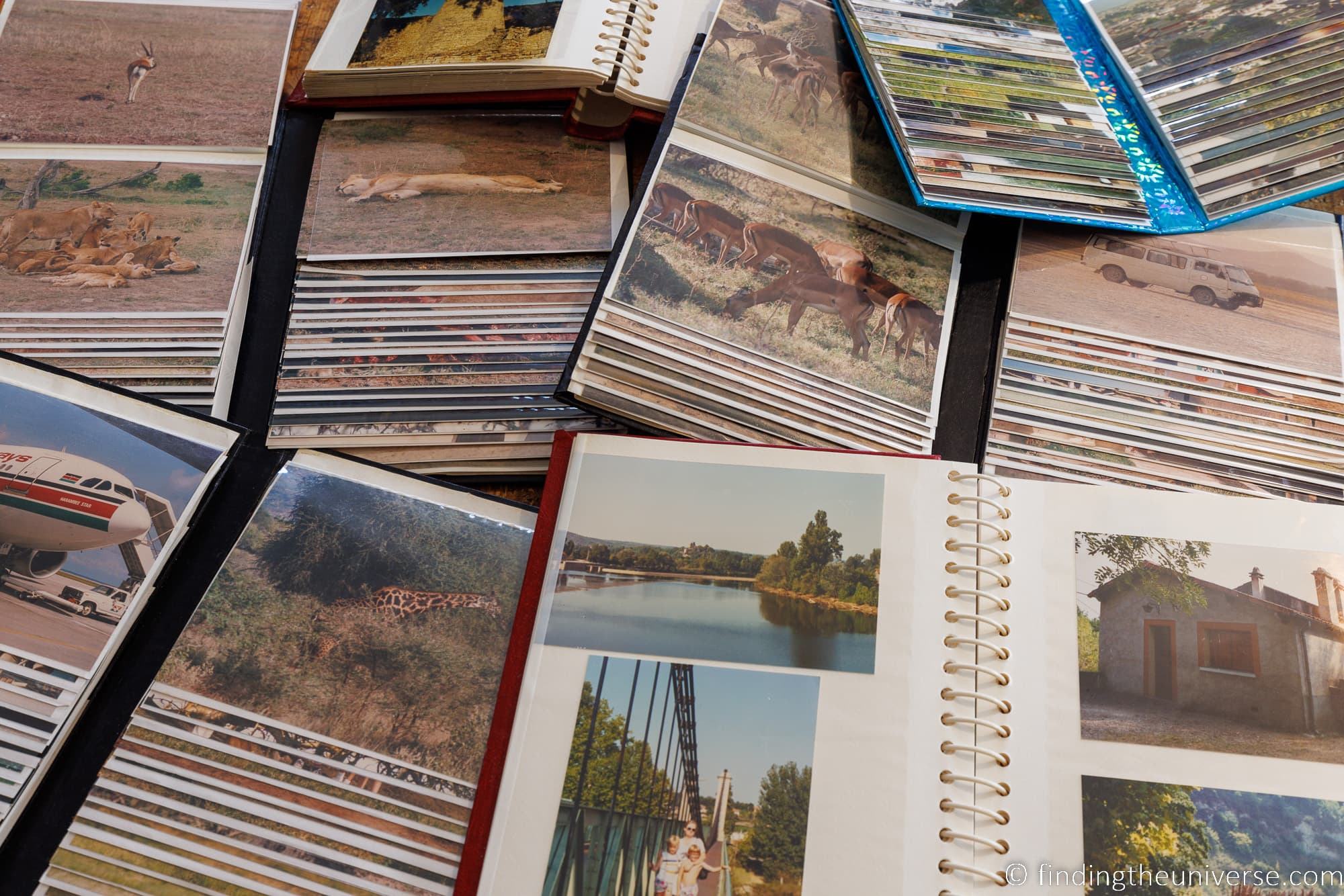 Create a Photo Collage or Scrapbook
If you're the creative type, or would just like to try your hand at a creative project, you might think about using some of your photos to create a photo scrapbook or a photo collage.
A scrapbook or collage is a great way to share photos along a theme, and they are particularly great if you have quite a few photos of a similar theme that you would like to display together.
For example, my family like to create collages of family memories for display. Each photo is perhaps not of the quality to display on its own, but when you put them all together they create a wonderful cohesive story.
You can also create scrapbooks of a number of photos, as well as other mementoes that go with the images.
For example, if it is photos of a trip, you could include boarding passes or passports. For a wedding or other event, it could be invites or a playbill.
To create a scrapbook or collage from your photos you will of course need to have your photos physically printed out first, which you could do using any of the methods previously mentioned.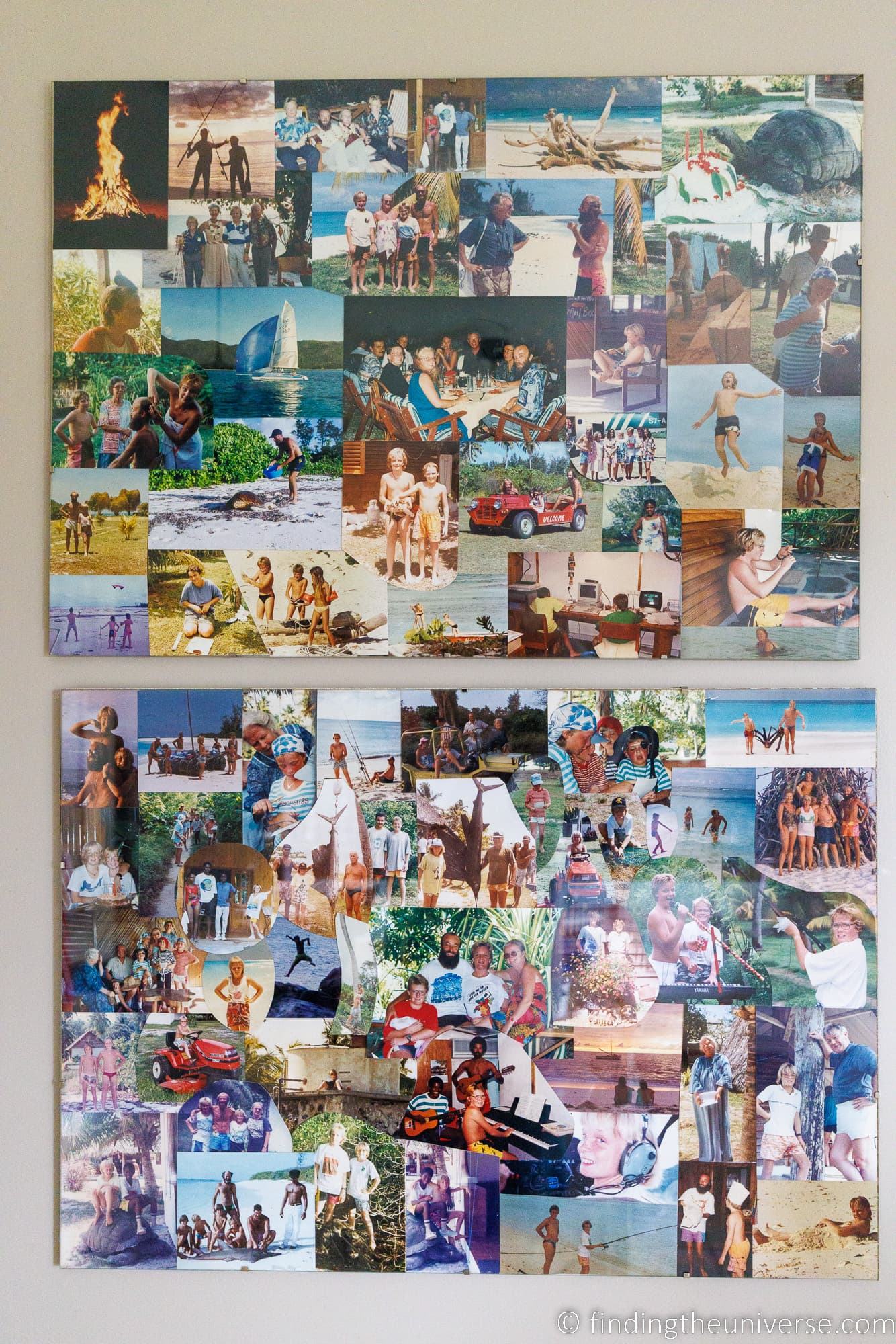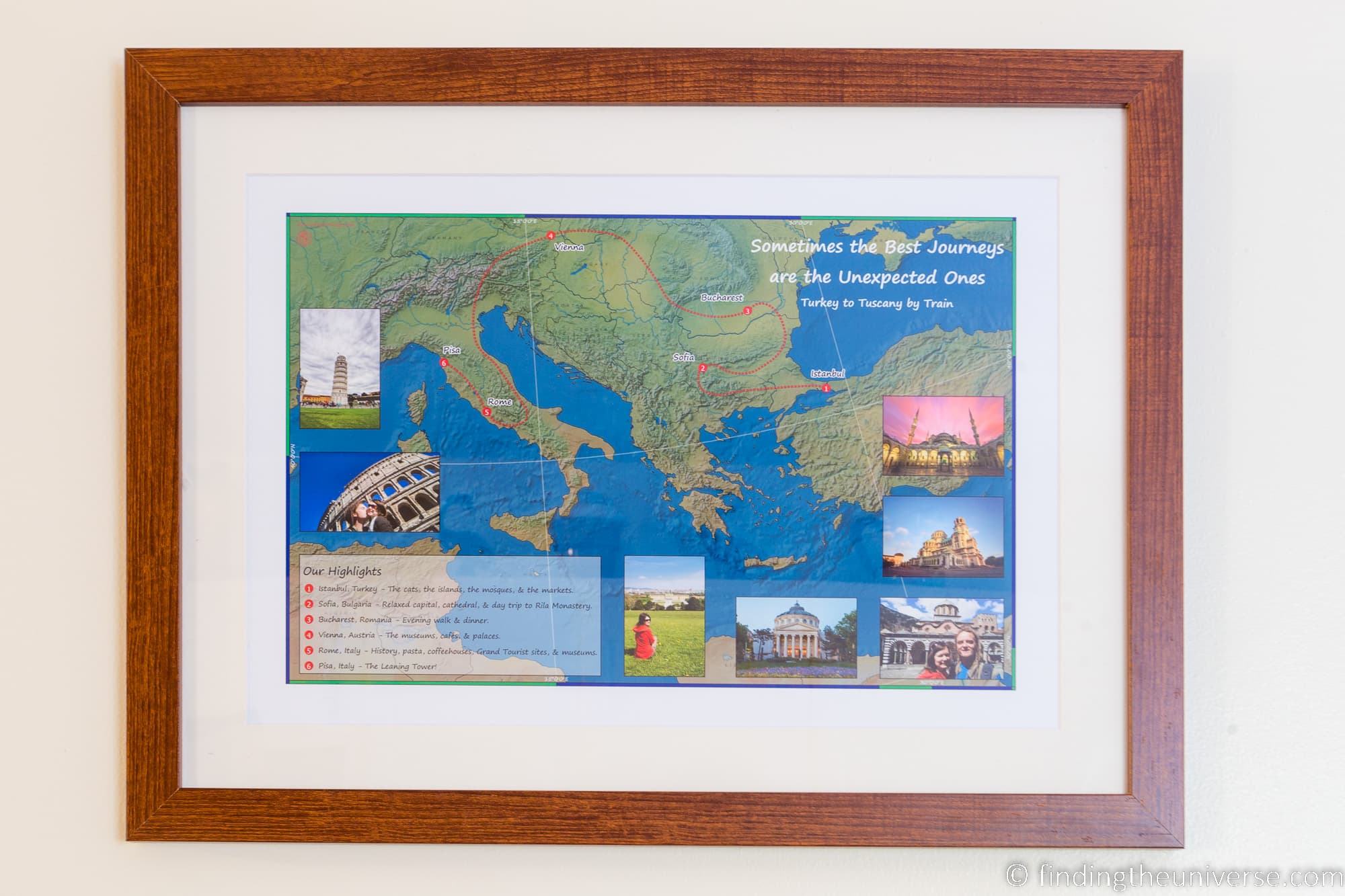 Print a Photo Book
Another idea for printing your photos to think about is a photo book. These can be a great way to collate a number of images that have special meaning to you, perhaps from a specific trip or event, that you don't necessarily have room to display around your home.
Instead, you can put a book together using an online photo book printing service. We've done this a few times with Shutterfly and always had a positive experience, although there are plenty of companies offering this service.
A photo book can be a lovely way to remember a major event like a wedding, or a trip you took.
As well as your photos, you can usually add text and decorative elements to your book as well. These make them quite different from a photo album, and can make a set of photos really special.
Photo books can also make for a great gift.
For example we were gifted a photo book of photos from our wedding by a family member which is a lovely keepsake.
Print Photos on Household Objects
Whilst you can of course print your photos on traditional mediums like paper and canvas, that is certainly not all you can print photos on!
These days you can get your photos printed on nearly anything, from mugs to puzzles to fridge magnets to t-shirts to blankets.
Having a happy memory printed out on a coffee mug you drink from, or a magnet that you see every time you open the fridge, can be a great way to keep that memory in your thoughts. These printed photo items also make for a lovely gift to family and friends.
Another option is just to print a series of photos onto a large blanket or throw. In the past we have gifted a cozy blanket with images of family members on it to a relative for a milestone birthday. We also have a throw with some of our own travel memories on which is a nice conversation starter.
There are of course more options! Perhaps a favorite pet could have their own blanket complete with a photo of themselves on it. Or you could create a picnic rug with images on it. Honestly, the only limit really is your imagination.
There are a range of services you can use to create art on various objects. We've used Shutterfly in the past, as well as various sellers on Etsy.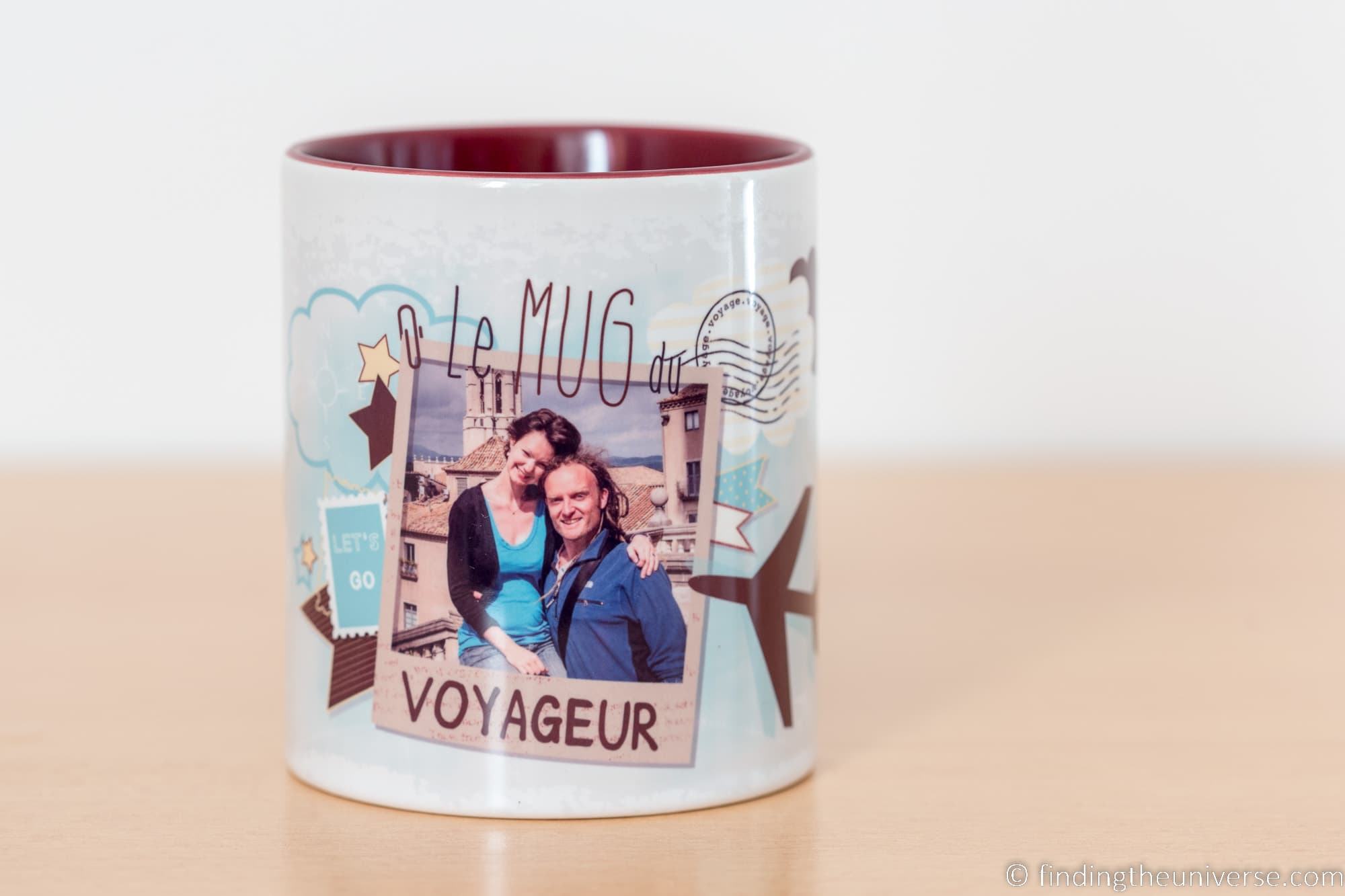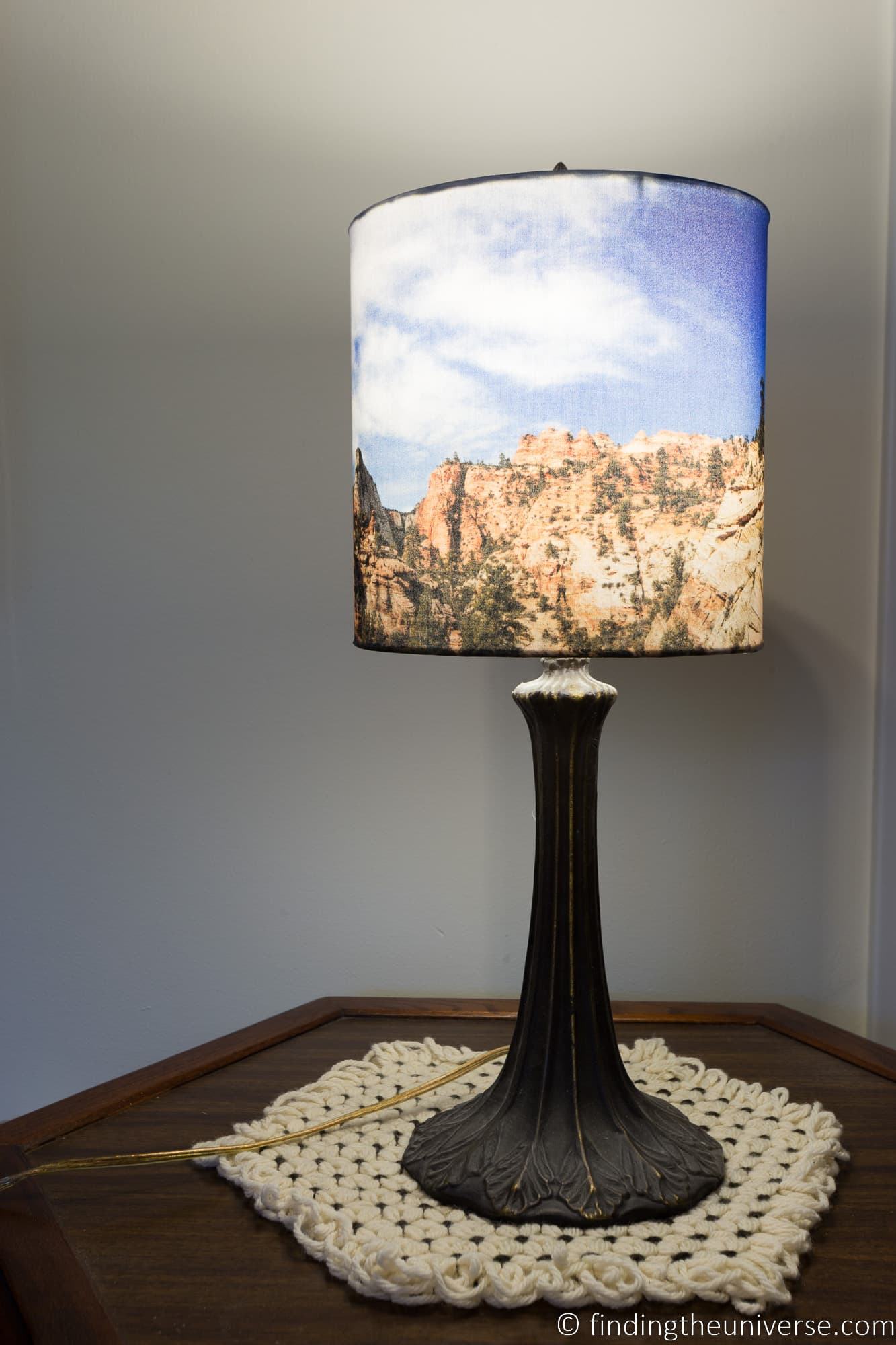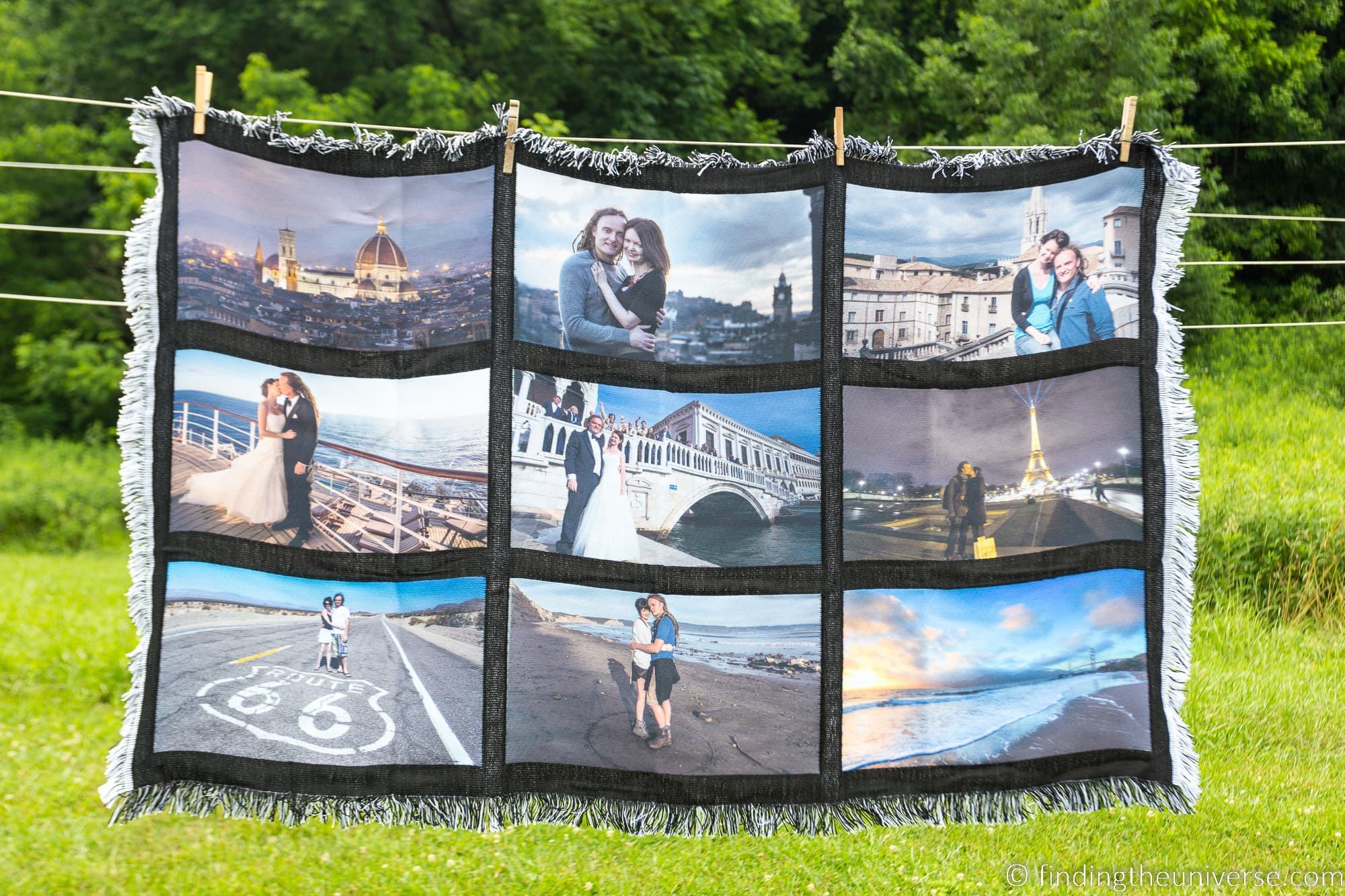 Print Photos onto Fabrics
If you have sewing and/or DIY skills, you might consider printing images onto fabric and then using that fabric to create things yourself.
The limit here is really your imagination. You could make anything from tablecloths to pillows to T-shirts to purses to quilts. These could be things you display and use yourself or items you create as gifts for others.
Use Them as a Wallpaper on your Computer or Smartphone
Having covered a number of physical photo display ideas, I'm now going to cover some options for digital display of your images. These can be a great option that allows you to be flexible with which images you display, so you can relive a whole range of memories of your choosing.
The first option to consider is to use your images as a wallpaper for the background of your computer or smartphone.
On Microsoft Windows for example, you can set a folder of images to be your desktop wallpaper, and the image can be set to change on a regular basis. You can achieve the same on Apple Mac computers, as well as on Android and iPhone smartphones and tablets.
Set them as a Rotating Screensaver
As well as setting an image or set of images as your desktop wallpaper, another option is to use your images as your screensaver.
On Windows and Apple computers, you can choose a selection of photos that the device will rotate through when idle. You can also do this on some tablets and smart home devices with screens.
This can be a nice alternative to a boring standard screensaver.
Use Photos as a TV Background
If you have a smart TV, a smart home device or a streaming device like an Amazon Firestick or Apple TV, this might let you set up a series of photos that display on your TV when it is idle.
This can be a nice way to display some of your memories in the background when you are not watching TV, perhaps when you have friends or family over.
We have used this function when entertaining as a way to share some of our favorite memories in the background whilst chatting with friends.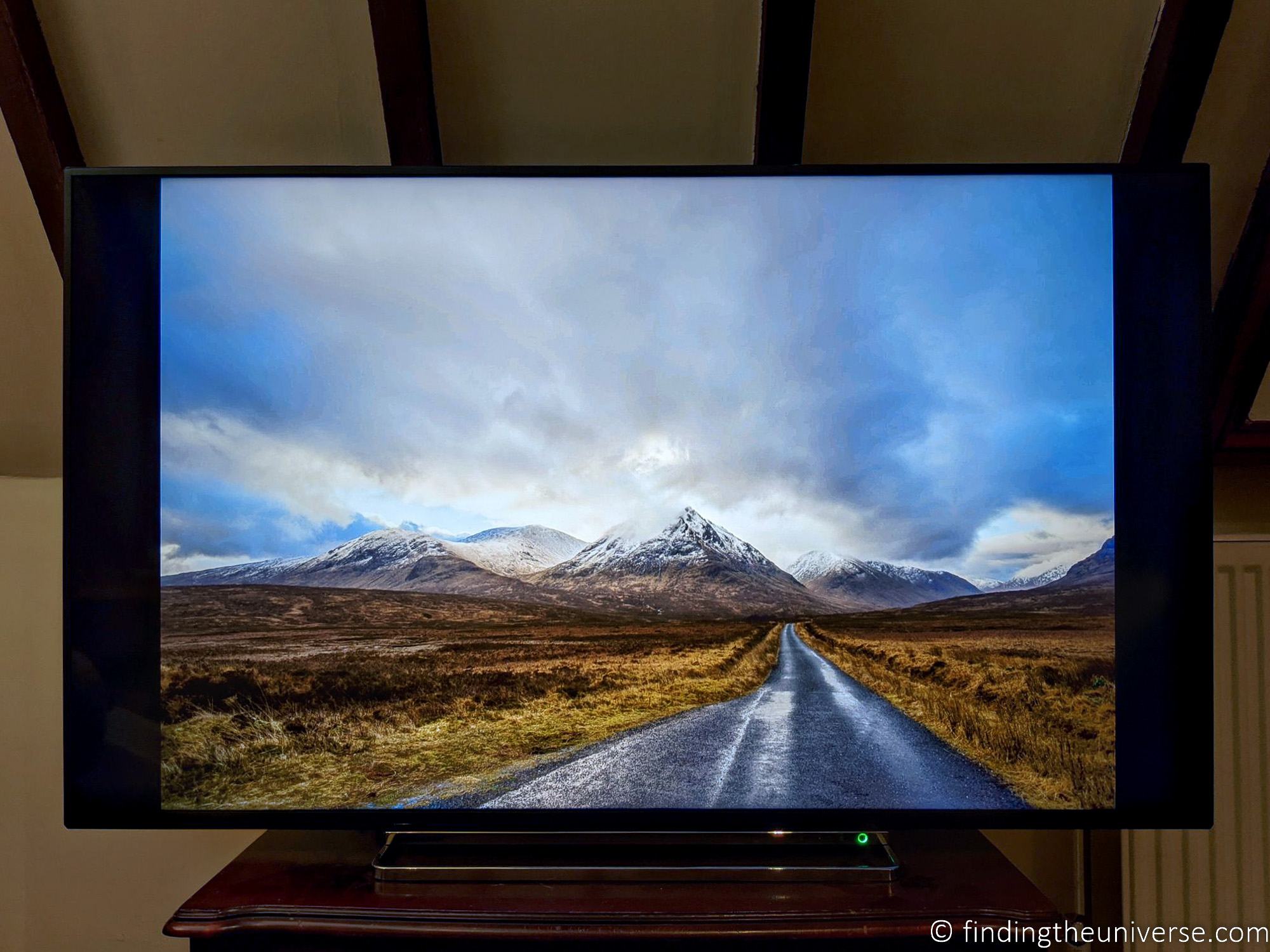 Display Photos on a Digital Photo Frame
If you like the idea of displaying your images in a frame, but don't want to be limited to which photos you display, you might consider investing in a digital photo frame.
These look very similar to a normal picture frame, but are actually a digital screen that is designed to display your favorite images.  Most of these frames have enough built in memory to store hundreds if not thousands of images, and you can set them to rotate for varying durations as well.
Digital photo frames come in a variety of sizes and are available across a range of budgets, with different feature sets. The more basic models like this will just take a memory card of photos and rotate between the images.
However, mid-range and high-end models are also available with more advanced features such as WiFi connectivity. These often allow you to send images to the frame by e-mail or app, and also may come with a remote control, touchscreen capabilities and larger, higher resolution screens.
You can see a full selection of digital picture frames across a range of price points on Amazon here.
As you can see, there are plenty of options for displaying your memories. Personally, we use a combination of the above for some of our favorite images from our travels. But you should do whatever works for you of course!
Further Reading
That's it for my guide to displaying photos! If you found this useful, you might enjoy some of my other photography related content. Here are some articles to get you started.
I have a guide to my favorite photo editing applications, as well as the best alternatives to Lightroom
I have a guide to the best noise reduction software for some ideas on how to get the best out of your photos even when they might be a bit noisy
We have a guide to how to use a compact camera, how to use a DSLR camera, and how to use a mirrorless camera. We also have a guide to how a DSLR works
Knowing how to compose a great photo is a key photography skill. See our guide to composition in photography for lots of tips on this subject
We have a guide to what depth of field is and when you would want to use it.
We are big fans of getting the most out of your digital photo files, and do to that you will need to shoot in RAW. See our guide to RAW in photography to understand what RAW is, and why you should switch to RAW as soon as you can if your camera supports it.
You're going to need something to run your photo editing software on. See our guide to the best laptops for photo editing for some tips on what to look for.
If you're looking for more advice on specific tips for different scenarios, we also have you covered. See our guide to Northern Lights photography, long exposure photography, fireworks photography, tips for taking photos of stars, and cold weather photography.
Color accuracy is important for photography – see our guide to monitor calibration to ensure your screen is set up correctly.
If you're looking for a great gift for a photography loving friend or family member (or yourself!), take a look at our photography gift guide,
If you're in the market for a new camera, we have a detailed guide to the best travel cameras, as well as specific guides for the best cameras for hiking and backpacking, the best compact camera, best bridge camera, best mirrorless camera and best DSLR camera. We also have a guide to the best camera lenses.
If you want a camera or lens, but the prices are a bit high, see our guide to where to buy used cameras and camera gear for some budget savings options.
We have a guide to why you need a tripod, a guide to choosing a travel tripod, and a round-up of our favourite travel tripods
Looking to Improve Your Photography?
If you found this post helpful, and you want to improve your photography overall, you might want to check out my online travel photography course.
Since launching the course in 2016, I've already helped over 2,000 students learn how to take better photos. The course covers pretty much everything you need to know, from the basics of how a camera works, through to composition, light, and photo editing.
It also covers more advanced topics, including astrophotography, long exposure photography, flash photography, and HDR photography.
You get feedback from me as you progress, access to webinars, interviews and videos, as well as exclusive membership of a Facebook group where you can get feedback on your work and take part in regular challenges.
It's available for an amazing one-off price for lifetime access, and I think you should check it out. Which you can do by clicking here.
And that's it! I'd love to hear about your thoughts on displaying your photos, and am happy to answer any questions you have. Just pop them in the comments below and I'll get back to you as soon as I can.