The land of pasta has attracted art lovers and romantics for centuries. What is more romantic than a destination wedding in Italy? With its incredible natural views, villas, and natural monuments, Tuscany could be the perfect place for your wedding day.
The gorgeous region has everything. Mountains and sea, vineyards, and picturesque hills. Michelangelo and Leonardo da Vinci were born here and drew their inspiration. A wedding in this blessed land will be an actual event.
Taking your first steps as a married couple under the gossip of grapes is a great way to start a marriage! The hills of Tuscany, handmade pasta, and red wine are just a few reasons to love Italy.
We've selected the best hotels for you to tie the knot. Let's take a look at them!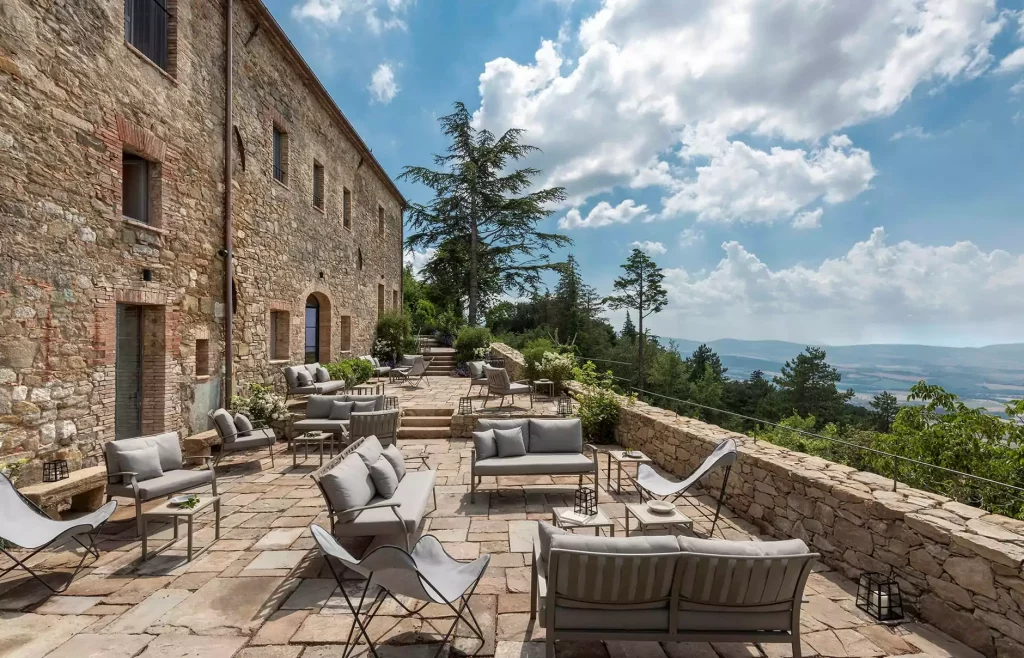 Monteverdi Tuscany
The list of best Tuscany wedding venues isn't imaginable without Monteverdi Tuscany. It really is one of the dreamiest wedding destinations in Italy.
With only seven rooms, this exclusive hotel combines modern design and traditional style. Half-antique wooden beams support the ceilings while you sit in front of a 200-year-old fireplace. Set against a stone wall that was once part of a medieval village, it's just a small example of the hotel's amazingness.
You can admire views of the Chetona, Radicofani, and Val d'Orcia mountains. Then stroll through the private garden and return to take a bath in the 18th-century copper hot tub. Each room also has an art gallery with beautiful contemporary art from around the world.
The timeless beauty of the village, the Tuscan mountains, and the 14th-century Romanesque church are just some reasons couples choose to spend their wedding day at this hotel.
The hotel's staff will gladly assist you in planning and coordinating everything you want for your special day. Monteverdi offers a complete approach to creating a memorable experience, from the welcome cocktail to the final farewell.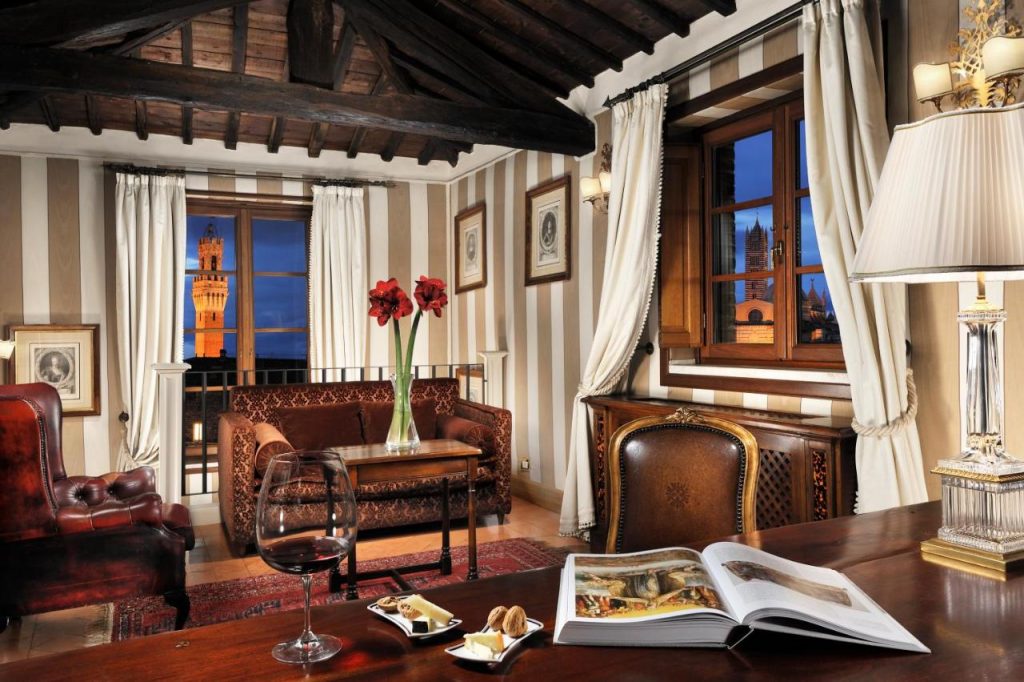 Grand Hotel Continental
A favorite for many couples is Grand Hotel Continental. The accommodation is located in the picturesque town of Tirrenia, just a few kilometers from Pisa Airport, surrounded by Mediterranean scenery.
This hotel offers fine cuisine, a cozy room atmosphere, and excellent views of the Tyrrhenian Sea coastline. Thanks to the variety of congress and banqueting areas, the Grand Hotel Continental is also suitable for a wide range of events.
The hotel pool and gardens are the perfect backdrops for special occasions in summer. The beauty and style of this place will make an accurate impression on your guests!
The hotel kitchen offers not one but three exclusive menus for couples who want to celebrate their special day in the establishment. A wedding at Grand Hotel Continental will surely be a good one!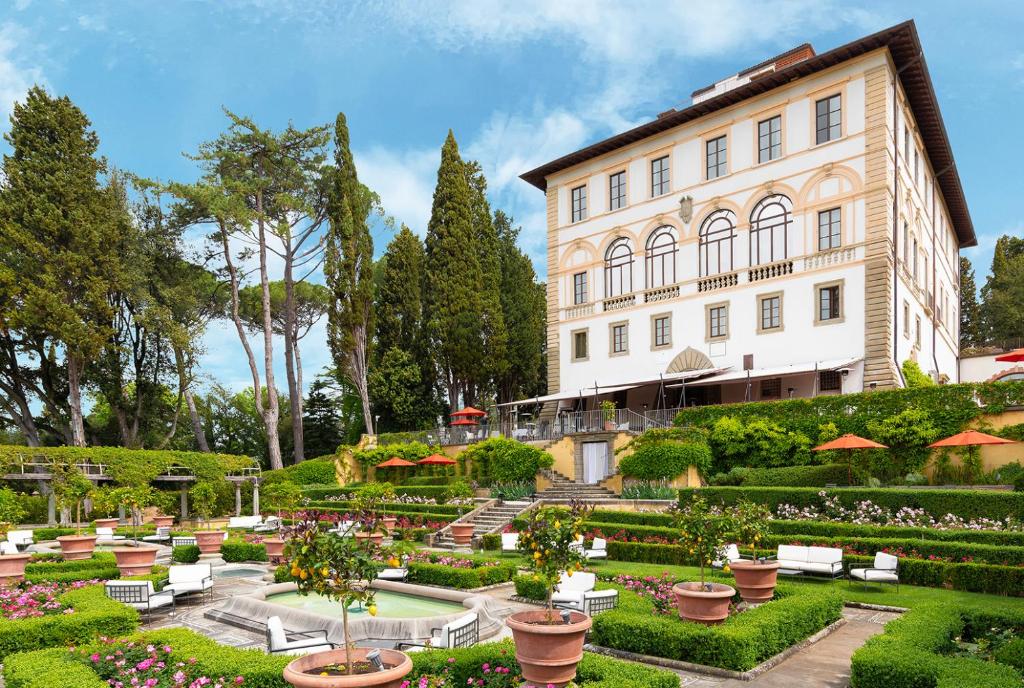 Il Salviatino
Another wonderful place to say your 'I do's' is Il Salviatino Florence. The hotel, nestled atop a picturesque hill in Fiesole, offers captivating panoramic views of the Florentine countryside and the Duomo. During your special day, enjoy the beauty of the ancient park that surrounds you!
This villa, impressing by its majestic architecture and the splendor of its interior, can trace its history back to the 15th century. Many great Italian aristocrats owned Il Salviatino Florence, but the villa takes its name from the Salviati family, who held it until the 17th century.
Although the hotel has overgone a renovation, it still features many of its original elements.  Unique frescos, sarcophagi, and original works of art, as well as secret underground passages, will enchant you.
Enjoy the spa, heated azure pool, and fine dining
Every room at Il Salviatino Florence is a unique piece of the villa's storied past. Moreover, all rooms and suites are equipped with modern comforts.
In addition to refined accommodations, guests can enjoy exclusive treatments at the Devarana Spa, a heated azure pool in the garden, and fine cuisine at the elegant Le Serre restaurant. There is also an outdoor terrace with a breathtaking view of the Tuscan countryside. Perhaps that's where you should say your vows?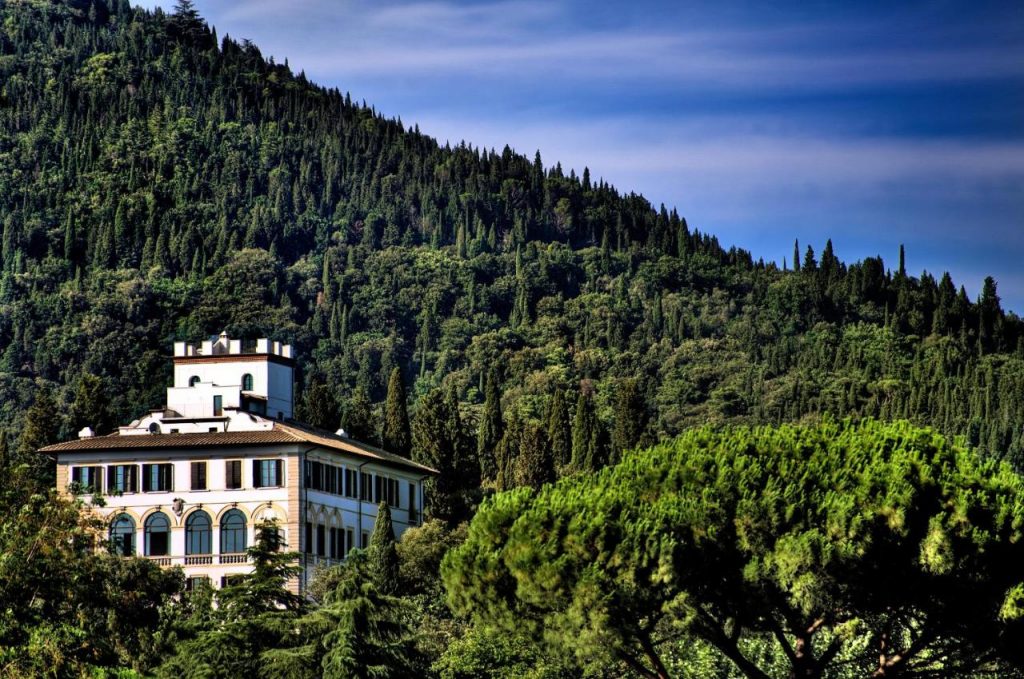 Il Salviatino Florence offers the perfect opportunity to touch medieval history and enjoy an unforgettable stay amidst the fantastic Tuscan countryside.
The wedding venue and the surrounding park area can be yours alone, allowing you to celebrate a private event with friends and family. A dedicated wedding planner will take care of every detail using all available wedding services.
Various packages are available for any type of wedding. Whether you prefer an outdoor ceremony in the Italian gardens, a lively party by the stylish pool, or a romantic dinner in the traditional library – your dreams can be made true.
After a full day of festivities, you and your guests can retire to one of the beautiful bedrooms and suites.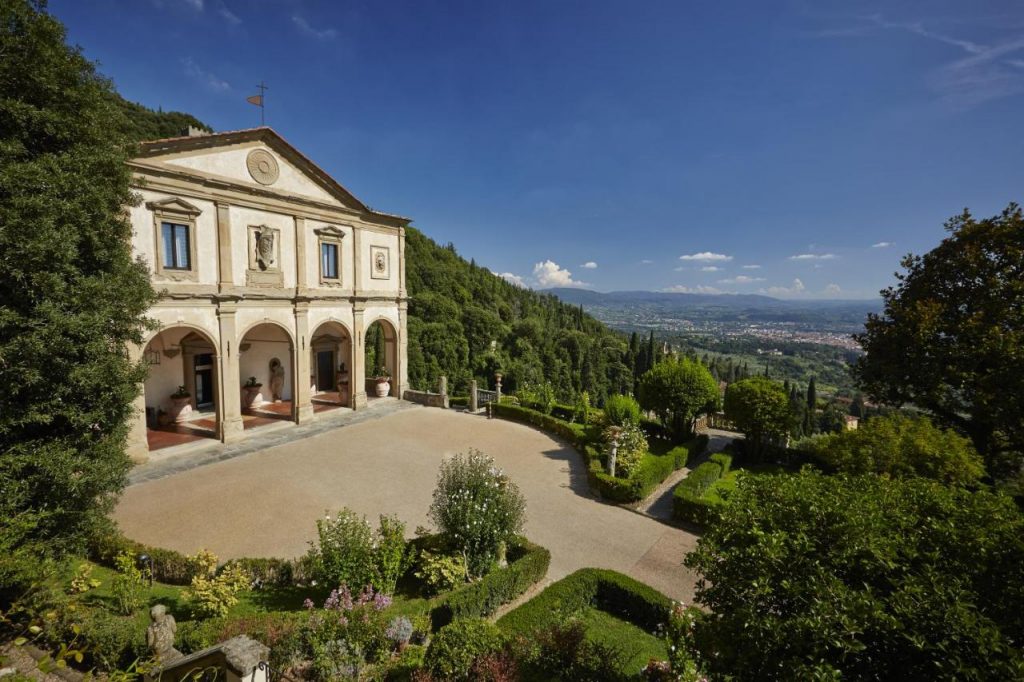 Belmond Villa San Michele
One of the most beautiful hotels to tie the knot in Tuscany is hotel Belmond Villa San Michele. The hotel, built on a hill, is immersed in the lush greenery of beautiful gardens and meadows. Plus – it offers stunning views of Florence. What could be better?
The hotel was built in the 15th century. In fact, it is believed that Michelangelo designed its beautiful facade. The hotel's grounds allow you to immerse yourself in the atmosphere of an ancient Renaissance monastery.
Villa San Michele is located near the center of Florence. This luxury hotel emerged from an ancient monastery and has a small church on the grounds. This makes the villa ideal for ceremonies and parties all in one place.
At Villa San Michele, you can prepare for your wedding in one of the charming suites and have the ceremony in the Italian garden or inside the villa.
The garden is usually preferred, as it offers a beautiful view of the town and the hills. At La Loggia restaurant, you can dine with charming vistas of the town.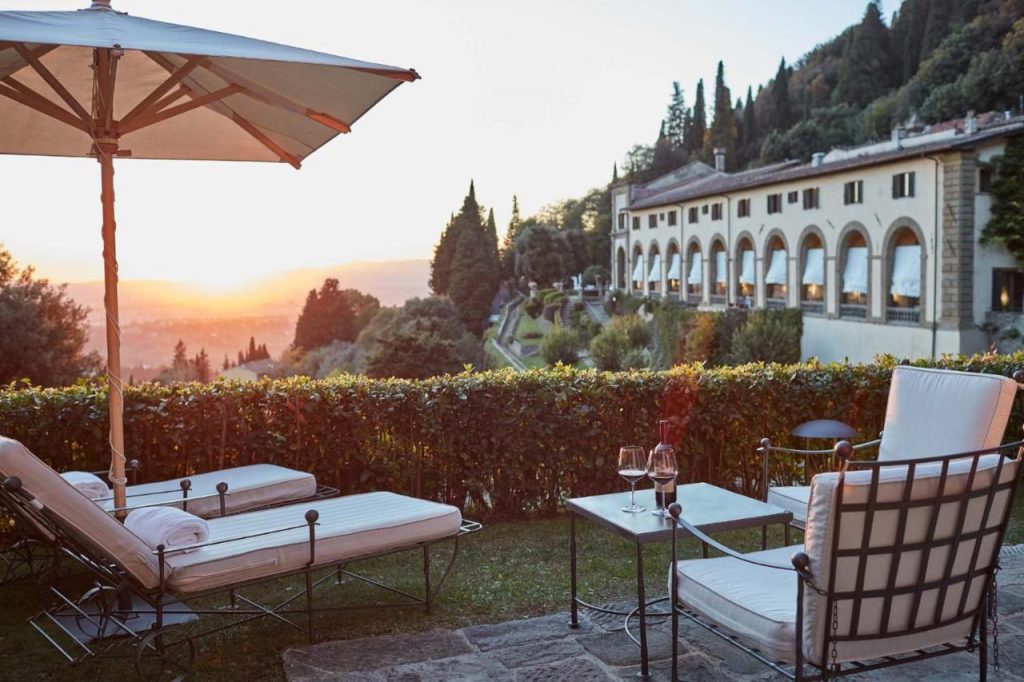 How much does a wedding in Tuscany cost?
The average destination wedding in Italy costs around 30 000 euros, but this, of course, depends on many factors. Location, the type of venue, food, and other aspects can make a wedding more or less expensive.
End notes
No matter which place you choose, spring is the best time to get married in Tuscany. Then, the weather is good and comfortable for indoor or outdoor events. Plus – it is tourist free. When you combine these two elements, you get the recipe for a perfect wedding!
So much has been written and said about the beauty of Tuscany, and this is indeed the absolute truth. The perfect place to get family and friends together and celebrate love! It is amazing how one tiny region can contain so much diversity and splendor.
If you wish to tie the knot in Tuscany, we'd love to help you! These hotels could be a fantastic choice for your venue. Contact us for more details.