Google is no longer just a search engine and a verb, but also one of the top places where travellers begin their hotel search. Within just a few clicks, their search can be narrowed down to a handful of properties, with the top listings benefiting tremendously in shaping their perception of what is available and within their budget. Hoteliers worldwide must embrace this opportunity to attract guests who rely on technology to guide their decision-making.
This blog will give you a full guide to Google Hotel Ads, explaining how hotels can manage their Google presence with ease using integrations, while responsibly managing a budget and maximising revenue.
What is Google Hotel Ads?
Google Hotel Ads, explained simply, is paid advertising within Google's hotel product offering.
In generic online searches for everyday items, most people now understand the difference between organic results and paid results, which usually appear at the top and are marked as Ads. The same applies to Google's hotel product, which provides users with a simple way to browse and explore hotel options wherever they may want to travel. Hotels can choose to use ads to build their strategy beyond the free option, whereby hotels are listed below the Top 4 paid results in 'All Options'. Using Google Hotel Ads, a hotel should expect to increase its traffic and, in turn, total revenue.
Beyond the traditional search results, keep in mind that travellers also search on mobile devices and within other Google apps, such as Maps: these are tied into the same source and also feature ads while returning a hotel's most up-to-date profile and rates.
How does Google Hotel Ads work?
Google Hotel Ads works similarly to any other channel you connect your hotel to, with the added layer or opportunity of running ads to be seen. Visibility is key because your hotel will be one of many that compete to be seen by someone searching for "hotels in your location". That is unless someone already knows the property and searches for your specific property name, where they will be shown your business profile and, if set up, the free booking link.
By creating a profile for your hotel on Google and supplying them with real-time information on your property, such as inventory and rates, search results are optimised. Ideally, this means travellers looking for "hotels in" will be quickly enticed further down the sales funnel, which can be a click-through to your website to book directly, an OTA, or a booking generated directly on Google. A simple way of ensuring inventory and rates on Google are up-to-date, is using a channel manager.
In order to run campaigns and ensure top listing spots in search results, hotels need a waterproof strategy that ensures high visibility at the lowest possible price point. This protects their bottom line and ensures that this channel of business becomes a sustainable revenue stream.
Creating a profile for your hotel, including a free booking link, is simple. It involves claiming your Google Business Profile. Where more attention and careful management are needed, is the distribution of inventory to Google (ideally using a channel manager) and the informed and strategic management of campaigns. The goal is to reach the right online target audience at the right time with the right bid and rates.
How much does Google Hotel Ads cost?
Depending on a hotel's location and its competitors and their involvement in Google Hotel Ads, cost very much depends on factors that are both within and outside the control of hotels. The cost of ads is based on individually defined campaign budgets and bid values.
Bid values are within the control of hotels. A property can choose what type of bid values it would like to use for hotel campaigns in Google Ads from the following list:
Hotels in big cities with a lot of competition will approach their Google Hotel Ads strategy differently from hotels in smaller destinations, where perhaps there are fewer than 10 hotels. The fewer hotels there are in a clearly defined market, such as a town, the higher the likelihood of being listed high and visible to potential guests searching for that specific market. Realistically, this also means that suburban markets, which see spillover during high occupancy dates from large cities, may be able to maximise on those specific dates through clever campaigning.
What is the conversion rate?
According to Renolon, who aggregated 10 data sources, the average conversion rate for Google Ads (not specific to hotels) is 4.72%. They state a wide range according to industry, between 2.4 – 9.6%. The Google Hotel Ads conversion rate is listed as 3.55%. At the same time, significant differences are to be expected due to seasonality, but also between markets. High-traffic destinations with a lot of competition may have more lookers and lower conversion rates, while smaller markets, where the decision-making process may involve fewer searches or comparisons, might convert a looker with a definite need to stay more quickly.
Qualifying whether a specific conversion rate is healthy for your hotel will depend on comparisons with your hotel's performance on other channels and the overall cost of acquisition.
How to set up Google Hotel Ads for your property
Before setting up Hotel Ads, your hotel will first need to claim its profile on Google, which is a straightforward process explained on their support pages. Your first steps after that must involve accuracy checks of all listed details on the profile and, especially, links. The best content cannot generate a direct booking when the link to the hotel's website is not working. This way you also ensure that even before you start ads, what guests see about your hotel when listed in the free "All Options" section is optimised.
Once the hotel profile and content are ready, the following actions will be necessary to create your first ad:
Ensure your inventory and rates are connected to Google either through an API or a third party, such as a channel manager
Ensure your hotel meets listing requirements and data quality specifications by Google
For hotels that chose a channel manager, proceed with your integration partner to create your first ad; hotels that did not use an integration partner can use Google's platform to create and manage ads in parallel to their systems
Using a hotel commerce platform such as SiteMinder, lets you enjoy the benefits of Google Hotel Ads without doing all the hard work. This way you can rest assured that all decisions on marketing, pricing or general updates to your content are consistent across channels and updated in real time.
What are Google Hotel Ads integration partners?
While there are more than 200 integration partners listed on Google's website, less than half of them are also shown to be "Ads partners". A Google Hotel Ads integration partner manages both the connection or distribution of your room inventory, including pricing to Google, and your Google Hotel Ad campaigns, ideally within one platform.
Google Hotel Ads management becomes a topic once you consider how your hotel manages its relationship with other channels and maintains status quo around the property. Arguably, the introduction of an additional, separate tool can add a layer of work. Among Google's Hotel Ads integration partners is SiteMinder, which provides a complete hotel commerce platform to manage your hotel, including Google Hotel Ads, from one place.
Getting started: Easy first steps and benefits of getting started
When getting started, your focus should continue to be on accuracy and ensuring that the basics are perfect.
Setup recurring reminders to check your profile and links for accuracy.
Double-check your work, including budget settings, every time. This is an expected chore for newbies and veterans alike.
Know how to track that a booking has taken place. If all links are functioning, details are correct and campaign settings smooth, it is time to ask yourself if you are clear on how you will identify a booking via Google Hotel Ads. Tracking must be in place and should ideally be easy to identify and reconcile for you, depending on your integration partner.
Compare booking performance across different channels, including cost of acquisition. This will help you understand what good performance of Google Hotel Ads looks like for your hotel.
Curate your profile: Beyond facts about your hotel that you control via direct entry, your Google Hotel Profile also consists of pictures and reviews added by Google users. You can exercise influence over this content not only by responding to reviews, but also by encouraging guests to post reviews. This is additional, free content, ideally marketing your hotel to undecided lookers.
The benefits of Google Hotel Ads are plenty, especially considering the magnitude of Google as a partner.
Google searches often occur before heading to an OTA's website: through its listing of various channels and price comparisons, Google saves the traveller time and gives your hotel the opportunity to win the business directly. This can save you an OTA commission and, with direct bookings, lets you own the guest relationship.
As a long-established giant in the online space, Google has the trust and loyalty of the masses, which generates trust in its hotel ads and the likelihood for a booking to occur.
With its continuous leadership and evolution in technology, Google as a partner has the means to stay on top of travellers' latest needs, search trends and behaviours, to help hotels convert bookings.
Examples of Google Hotel Ads in action
For Google Hotel Ads examples, you should, in theory, have to go no further than a search for "hotels in any town" and then click on one of the top results. For examples that go beyond the bookers' experience, you have to look more specifically.
Google shares its own success stories associated with a number of brands. These are geared towards understanding the impact of the strategic application of ads on a large scale, whereby large chains have seen a lift in bookings as high as 75%.
Using geo-targeted strategies, your hotel is also competing differently with other hotels, based on the origin of the search. For example, a search for "hotels in Sydney" originating in Germany returns the following results: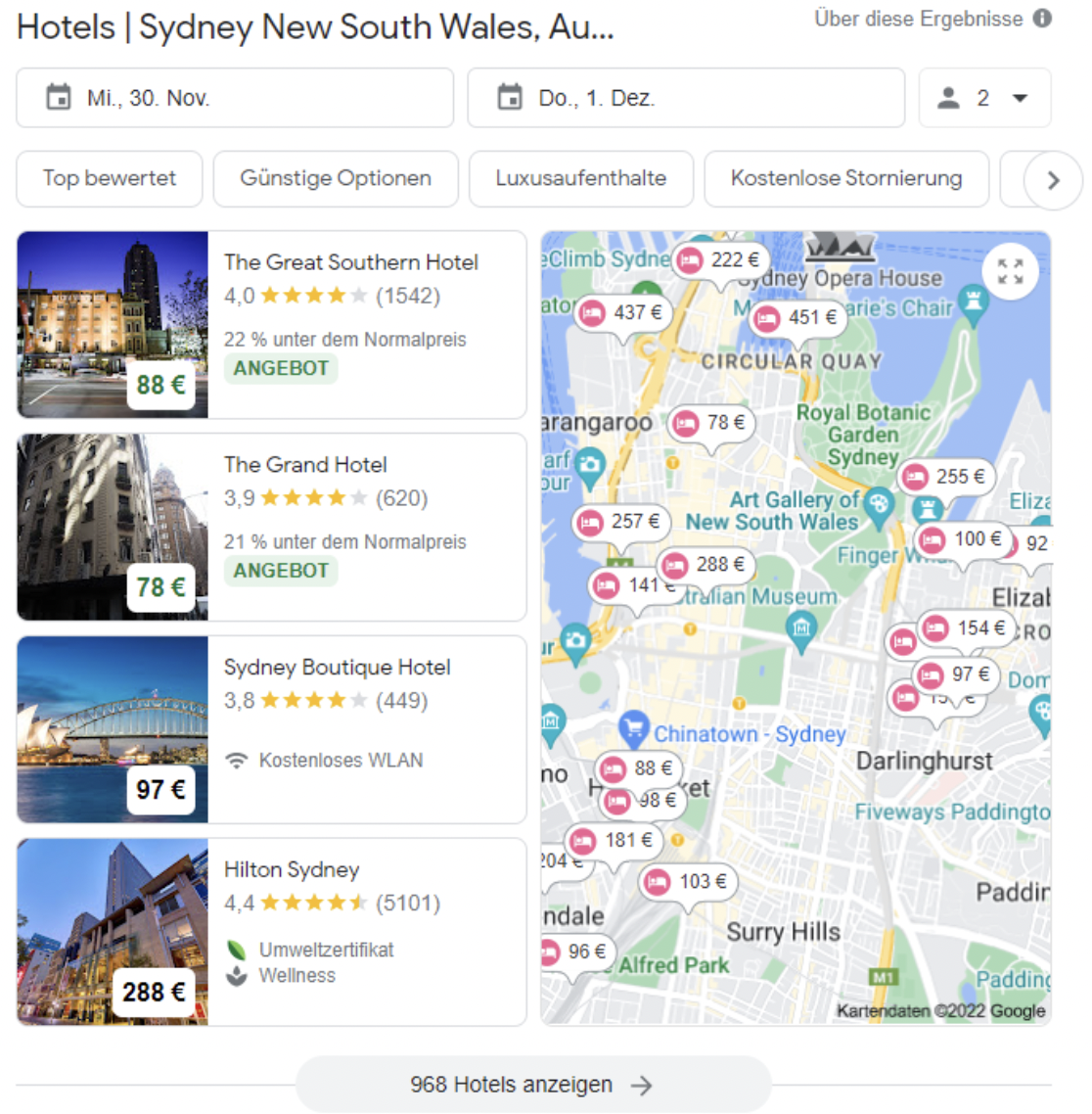 Meanwhile, "hotels in Sydney" for the same dates returns different hotels when searched for from the United States, because the bids and reach of campaigns are likely defined differently by hotel: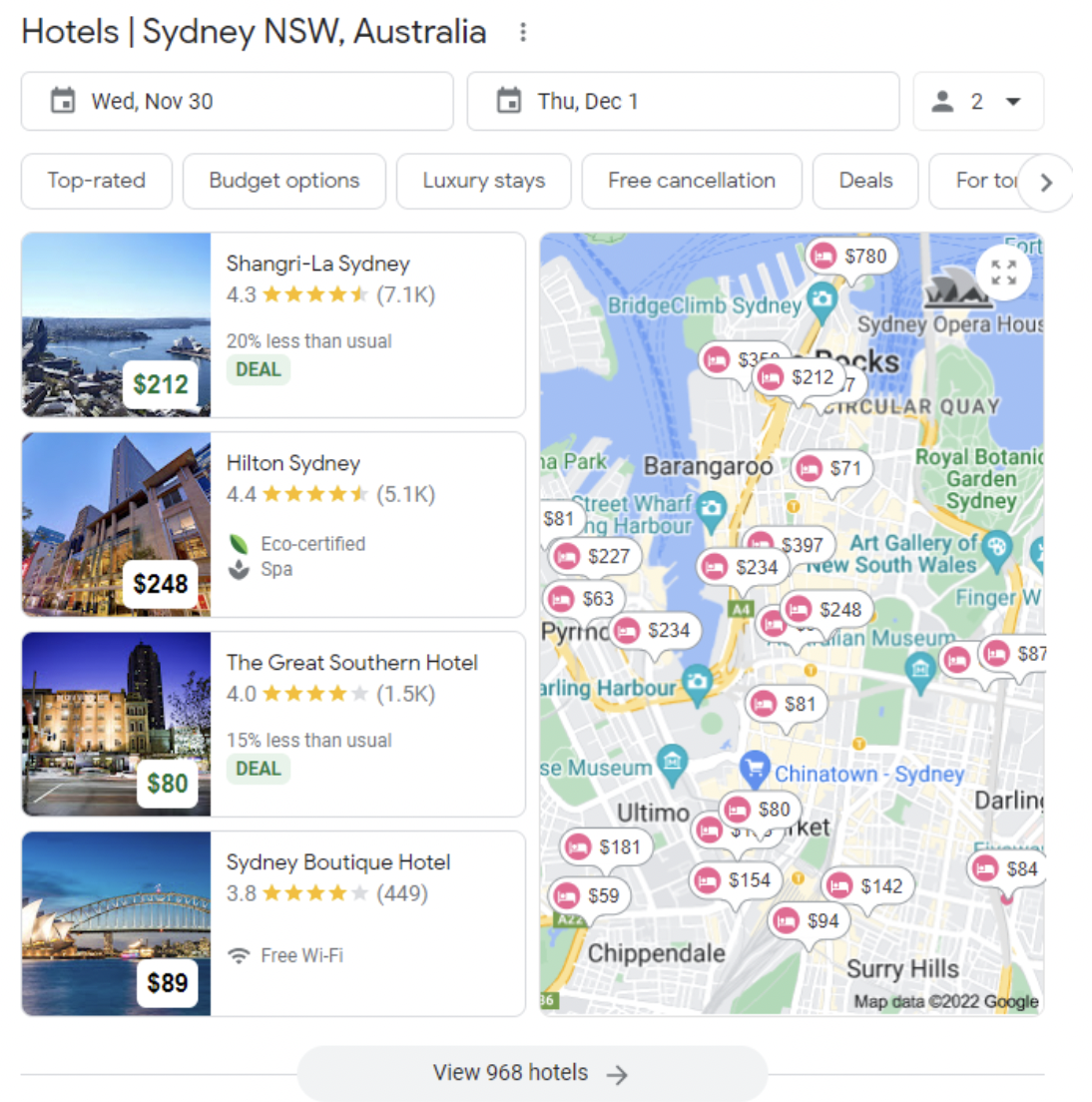 Best practices to manage your Google Hotel Ads
In order to maximise conversion and revenue without spending too much, keep in mind the following Google Hotel Ads best practices:
Test drive your own Google Ads and monitor the competition with the use of the Google Ad Preview Tool, where you can enter any search term and location (for example, you could pretend to search from another country) and see what your potential guests see.
Set up automated rules: Make changes to your ad status, budget, bids or more automatically, based on any conditions or settings. For example, you might want to increase your keyword bid up to a set maximum, anytime your ad falls off the first page of results.
Focus on rate parity: When travellers do not have to choose a channel because of a noticeable price difference, they go with their loyalty. Many also know that booking directly with a hotel can secure additional benefits.
Become an expert at your content: This includes the immediate profile, as well as what guests see on your website, including blogs, and current events. Few things are as disappointing to read on a website as promotional material for events that have already taken place. By keeping your content fresh you communicate with every aspect of your online presence that you are ready for their business.
Focus on critical dates: Depending on your appetite for spending, you may want to focus your budget only on critical dates, for example when your occupancy is below a certain percentage at a defined lead time.
Know your changing cost: The impact of inflation and labour shortages worldwide continues to impact hotels and the cost of running operations day to day. Consider keeping up to date on the changes in your cost and passing along changes in budget to how you manage your campaigns.
SiteMinder and Google Hotel Ads: How do we help your business?
By utilising SiteMinder's Demand Plus feature, your hotel will master visibility in its market across the top metasearch sites. Arguably, being seen by the right audience is the pivot point that makes or breaks campaigns. By getting the support your hotel needs, enjoying the benefits of metasearch becomes easy.