With the onset of the Industrial Revolution, during the mid 19th century, innovative art styles and movements emerged at a rapid rate leading to several modern art movements —Impressionism, Expressionism, Art Nouveau, Abstract Art, Art Deco, Pop Art, Cubism, Surrealism, and more. Since ages, art has been utilized to narrate stories and showcase the scenario of the times when it is curated. The best modern art museums in Europe feature an array of enthralling sculptures, artifacts, and paintings attracting art lovers from all across the globe. These cultural centers exude the liveliness of modern art created by noble artists. Below are some of the best contemporary art museums in Europe housing incredible work. Check them out now.
5 Best Modern Art Museums In Europe For Your Artsy Soul
Listed below are the 5 best modern art museums in Europe that are bound to impress you with their quirk, state-of-the-art-design, and deep thoughts behind.
1. S.M.A.K., Belgium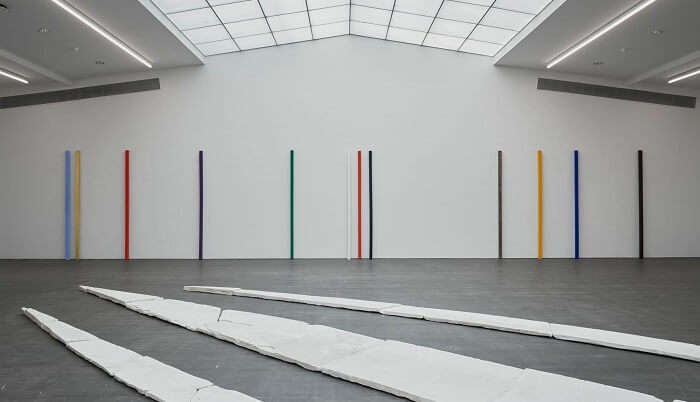 Image Courtesy: SMAK Gent for Facebook
The City Museum for Contemporary Art or S.M.A.K. focusses on the significant elements for the future through its contemporary art. Established in 1999, the museum entices art lovers for its provocative exhibitions and permanent collection by renowned artists like Francis Bacon, Karel Appel, Panamarenko, and Andy Warhol. The modern art collection includes stellar work of Belgian as well as international artists showcasing several kinds of arts including pop art, conceptual art, minimal art, etc. To enjoy a perfect trip to the museum, make sure to visit when the exhibitions are running.
Location: Jan Hoetplein 1, 9000 Gent, Belgium
Timings: 9:30 am to 5:30 pm (Tuesday to Friday); 10:00 am to 6:00 pm (Saturday & Sunday); closed on Mondays
12 Museums In France Where You Get To Be A Part Of Its Glorious History
2. Pinakothek Der Moderne, Germany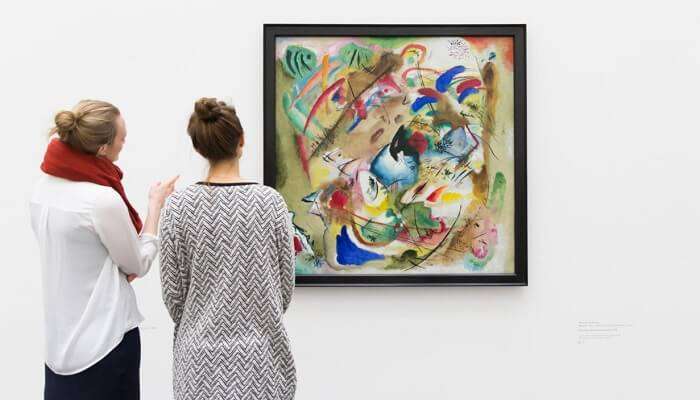 One of the largest modern art museums in Europe, Pinakothek Der Moderne is home to four separate museums, namely Sammlung Moderne Kunst (Collection of Modern Art), the Staatliche Graphische Sammlung (State Collection of Graphic Design), the Architekturmuseum (the Museum of Architecture), and the Sammlung Moderne Kunst (Collection of Modern Art). The fascinating installations in all the museums will give you a glimpse of the art of the 20th and 21st centuries. Furthermore, the museum exhibits the work of modern art perfectionists such as Klee, Picasso, Marc, and Kandinsky. After enjoying a tour of the museum, you can stop by the on-site cafe to relish a cup of coffee with some munchies.
Location: Barer Str. 40, 80333 München, Germany
Timings: 10:00 am to 6:00 pm; closed on Mondays
3. The Centre Pompidou, France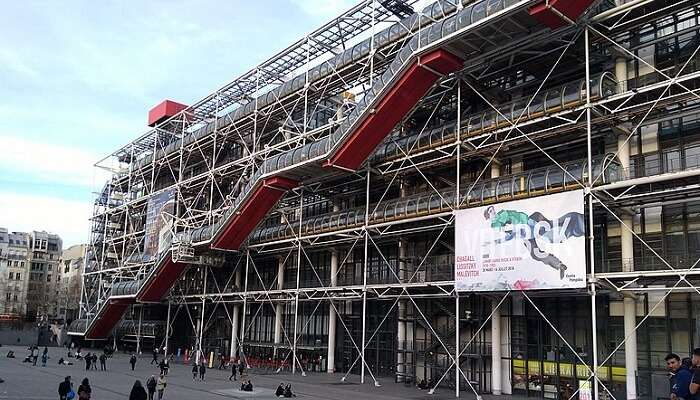 Image Credit: Oliver Romo Miranda for Wikimedia Commons
Enjoying a central location in Paris, The Centre Pompidou is an exceptional building made with glass and metal. The strong depiction of colors through art is the highlight of the museum. It's four major colors make its facades and outline alive—blue for air-conditioning, yellow for electricity, green for water circuits, and red for pedestrian flow. The museum's permanent collection features nearly 120,000 which is the richest collection in Europe and second largest in the world. You will find some excellent works of famous artists like Pablo Picasso, Dali, Constantin Brancusi, Joseph Beuys, Louise Bourgeois, Marc Chagall, Otto Dix, Marcel Duchamp, Frida Kahlo, etc.
Location: Place Georges-Pompidou, 75004 Paris, France
Timings: 11:00 am to 9:00 pm (Wednesday to Monday); closed on Tuesdays
10 Best Museums In Germany That'll Give You A True Glimpse Of The Country's Historic Past
4. Museo Nacional Centro De Arte Reina Sofia, Spain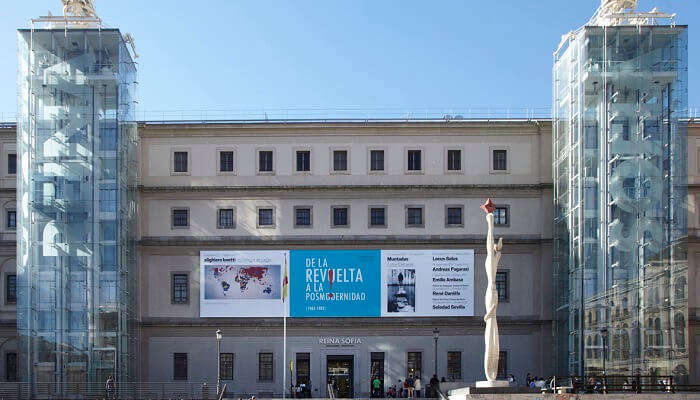 Image Credit: Museoreinasofia for Wikipedia
Located in the capital of Spain, Madrid, the Museo Nacional Centro de Arte Reina Sofía is among the best modern art museums in Europe. The museum specializes in Spanish art and houses over 18,000 masterpieces of twentieth-century and contemporary art. While each of its art work is remarkable, some exceptional classics including The Musician's Table by Juan Gris, Guernica by Pablo Picasso, Snail, Woman, Flower, Star by Joan Miró, The Great Masturbato by Salvador Dalí, and A World by Ángeles Santos are worth marveling at.
Location: C. de Sta. Isabel, 52, 28012 Madrid, Spain
Timings: 10:00 am to 9:00 am (Wednesday to Saturday & Monday); 10:00 am to 2:30 pm (Sunday); Closed on Tuesdays
5. Guggenheim Museum Bilbao, Spain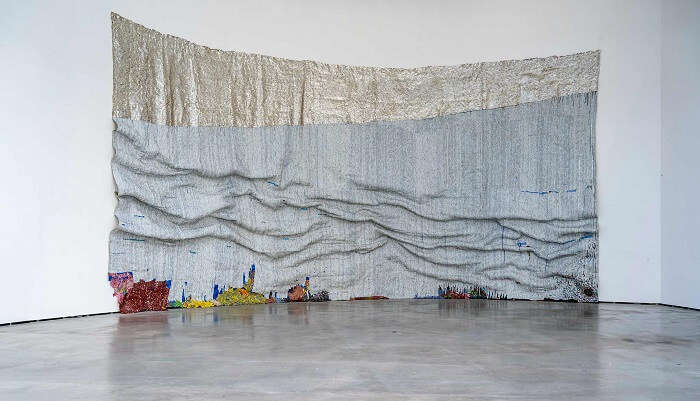 Image Courtesy: Guggenheim Bilbao Museoa
Established in 1997 by Frank O. Gehry, Guggenheim Museum Bilbao is a gigantic glass, stone, and titanium structure that draws the attention of every passerby. While being famous for its state-of-the-art design, Guggenheim Museum Bilbao houses three levels that are organized around the atrium. The levels are connected by elevators, staircases, and walkways. There is a plethora of masterpieces in the museum; however, art works like Large Blue Anthropometry [Ant 105] by Yves Klein, Untitled by Mark Rothko, The Matter of Time by Richard Serra, and, Puppy by Jeff Koons, and Mummy by Louise Bourgeois, make it one of the best modern art museums in Europe.
Location: Abandoibarra Etorb., 2, 48009 Bilbo, Bizkaia, Spain
Timings: 10:00 am to 7:00 pm; closed on Mondays
11 Spanish Museums That Offer A Sneak Peek Into The Culture, Art, And History Of The Country
When it comes to modern art, it never ceases to amaze with its avant-garde aura. The best modern art museums in Europe will surely make you head over heels with the contemporary art that is of next level. So, while planning a Europe trip with TravelTriangle, don't forget to visit these sites as they welcome you to a new world altogether.
For our editorial codes of conduct and copyright disclaimer, please click here.
Frequently Asked Questions About Best Modern Art Museums In Europe
Which are the best art museums in Europe?
Some of the best art museums in Europe are:
1. Hamburger Kunsthalle
2. Tate Modern
3. Centre Pomipidou
4. S.M.A.K.
5. Guggenheim Bilbao
6. Kröller-Müller Museum
When is the best time to visit Europe?
The months between May and September are ideal to visit Europe. It is when the hotel and flight prices are reasonable, tourist attractions are less crowded, and weather is pleasant.
Which is the largest modern art museum around the world?
The Louvre, in Paris, France is the largest museum on earth by size, with approximately 73,000 square meters of exhibition space.
People Also Read:
Museums In France Museums In New York Museums In Florence
Comments
comments