Looking for wonderful places to eat in Monrovia, California? These restaurants in Old Town Monrovia and beyond serve some delicious eats. 
Monrovia is a charming city located in California's foothills of the San Gabriel Mountains, affectionately called Mayberry for its small-town feel. It's a great city to spend a day in Los Angeles and to get away from the hustle and bustle of DTLA. The historic old town area is a great place to stroll and shop, and there are plenty of places to eat in Monrovia.
As locals in the neighboring city of Pasadena, we frequently visit Monrovia for its Friday night street fair, great restaurants, and all the other things to do in the area. Once upon a time, we had close family that lived in Monrovia, so we have gotten to know the city pretty well.
One of the things we love to do in Monrovia is eat! There are some great places to eat in Monrovia, CA. Unlike Old Pasadena, which gets crowded on the weekends, parking can be chaotic – sorry Pasadena, but we still love you! Monrovia is much more relaxed.
We also love visiting these small businesses in Monrovia because the owners often work in the restaurant and are always so friendly.
So, if you're looking for places to eat in Monrovia, we got you covered. In this article, we share our favorite restaurants in Old Town Monrovia, and beyond, serving up some of the best food. From a charming wine bar to amazing brunch and fantastic pizza, there is a tasty itinerary for everyone on this list.
Places to Eat in Monrovia
1. The Diplomat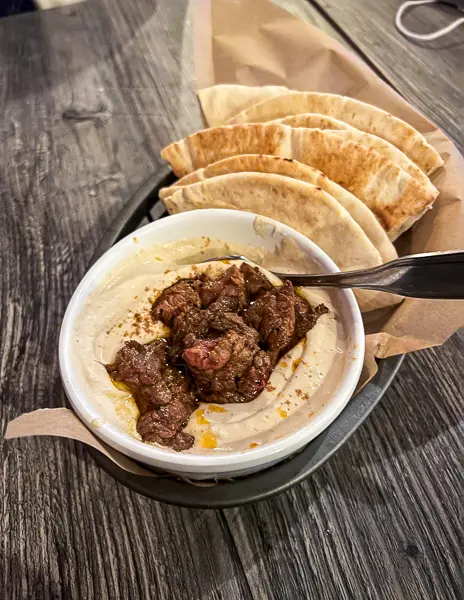 Right off of Myrtle Ave on E Lemon Ave, you'll find The Diplomat.
Just passing by The Diplomat with its prohibition theme, you wouldn't know that they serve some of the best Mediterranean food in town. We are talking hummus, grape leaves, kebobs, felafels, and more. It's difficult not to want to return to eating here every time we are in Monrovia.
Our favorite appetizer is their hummus topped with slices of filet beef. Not something you normally see hummus topped with, but it works, and it's amazing. The beef is tender, and the hummus is flavorful and creamy. Just dip your pita bread and enjoy.
We usually get lamb chops for our main dish, one of their most popular entrees. They are grilled perfectly at a medium rare and very well marinated. We can't help but finish them by munching on the bones to ensure we get all that flavor.
The Diplomat also has a beautiful full bar. They serve an excellent old-fashioned.
The chic but rustic casual ambiance with its dim lighting and wood decor. And, in our experience, the service has always been wonderful.
The Diplomat | 109 E Lemon Ave, Monrovia | Google Map It
2. The Saltner Wine & Cicchetti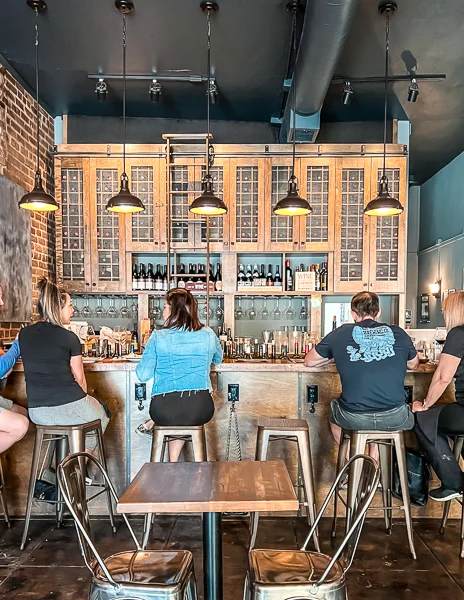 Does Monrovia have a wine bar? YES. The Saltner is one of those hidden gems and restaurants in Old Town Monrovia.
We came upon The Saltner one day, one of the best Monrovian discoveries. The Saltner is a wine bar serving some of the best wines with small amazing dishes. And, it's right in the heart of Old Town Monrovia, off Myrtle Ave on E Colorado Blvd.
The Saltner has an impressive wine list with many different types of wines from all around the world. And, if you're not sure what you want, no problem! The knowledgeable staff is always happy to help you pick out a wine. They helped me pick out an amazing glass of Chianti that I still think about today, and I should have written it down.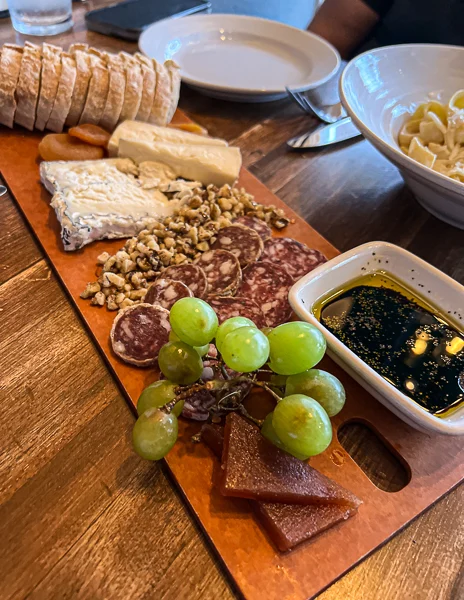 We love their menu full of cicchetti which are essentially small plates. While the menu may change by season, when we were last there, we enjoyed and shared several dishes like a charcuterie board, the Tuscan beef stew, fettuccine alfredo, and meatballs. Every single dish was superb.
The vibe is quaint and intimate. The perfect place for a date night or get-together with friends. You can also come in and just sit at their beautiful bar and order a flight of wine. You can also just go there for the food.
The service and staff are so friendly. The owner and the chef came to our table to chat about their passion for wine and food. The chef even recommended a couple of other places to eat in Monrovia that she loves.
Weekends can get busy. Try to make reservations or go early to see if you can snag one of their few available tables like we did.
We hear that Sunday brunch is a must!
The Saltner | 108 E Colorado Blvd, Monrovia | Google Map It
3. The Monrovian
The Monrovian is a family-friendly neighborhood restaurant in Old Town Monrovia, right on Myrtle Ave. You can enjoy breakfast, lunch, or dinner and never have a bad meal. They also have a fantastic bakery and cafe, where you can stop by for your morning or afternoon coffee with your favorite pastry. If you want a cocktail, they have a full bar.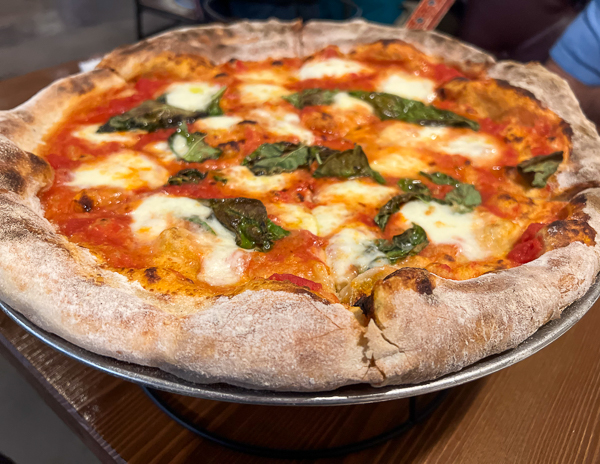 We used to only stop at the Monrovian for coffee until we were told that we must try their sourdough pizza for dinner, specifically, the Pennywise pizza.
The Pennywise pizza is topped with mozzarella, red sauce, pepperoni, mushrooms, Calabrian chili, and basil. It's quite a delicious and spicy combination. You have to love a kick in your pizza! However, if we were to reorder it, we'd probably skip the mushrooms.
We also ordered a Margherita, which was amazing! Check out their full menu for all their pizza combinations, as the Monrovian offers the best pizza in Monrovia.
We were super impressed by the pizza here; it's thin and crispy and has that nice char flavor from the brick oven. If you follow our site, you know we are pizza snobs.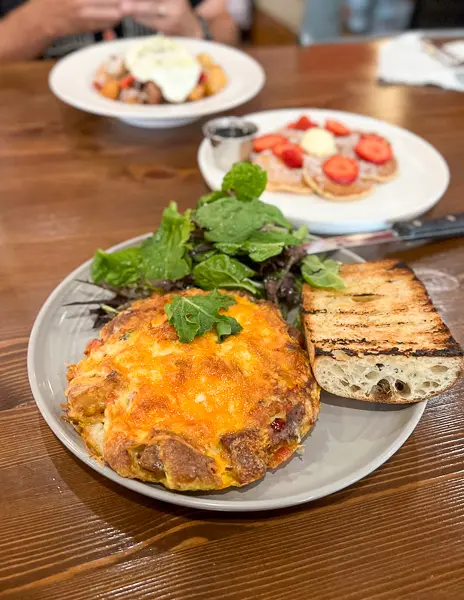 The Monrovian is also a great place for breakfast and brunch! We were recently there and enjoyed a full brunch, where we took leftovers home. Their plates are large and have all the classic breakfast items and their breakfast specialties.
The house frittata is a must. We thought we'd get a slice of a frittata, but it's a mini frittata prepared with potatoes, bacon, scallions, peppers, and cheese. Thankfully, served with a side salad as the frittata alone is filling enough.
The Pork & Tahtoes was also a highly along with their mini kid-size pancakes are a perfect side dish.
Add The Monrovian to your places to eat in Monrovia, and you won't regret it!
The Monrovian | 534 S Myrtle Ave, Monrovia | Google Map It
4. Cafe de Olla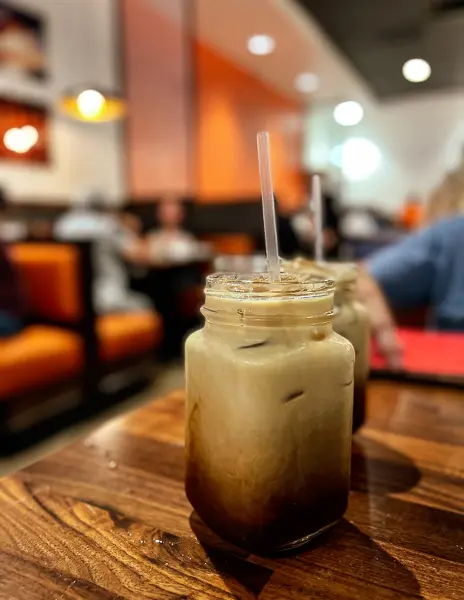 If you're looking for a delicious brunch spot in Monrovia, that would be Cafe de Olla. Cafe de Olla is one of the newest cafes on Myrtle Ave in Old Town Monrovia. It is the second restaurant for Cafe de Olla, the original is in Burbank. They're known for their traditional Mexican coffee, café de olla, and Mexican breakfast dishes.
Start your meal with a traditional café de olla, you can get it hot or iced. What is cafe de olla? It's a Mexican coffee brewed and prepared in a clay pot with cinnamon, whole cane sugar, and spices. It is sort of sweet. And, you have to like cinnamon to enjoy it.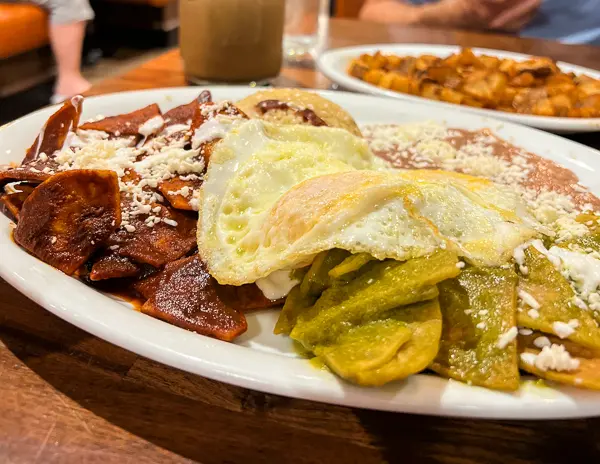 You can't go wrong with anything on the menu, but we love their chilaquiles divorciada (rojos & verde), chorizo con huevos, and waffles, specifically their churro waffle. Their servings are big. If you're going there with a friend or partner, we suggest ordering a savory and sweet option, then splitting it so you get the best of both worlds.
They do have other classic breakfasts that you can choose from as well.
You can stop by their cafe and bakery for a coffee and pastry to go.
Cafe de Olla is only open for breakfast, brunch, and lunch. It's usually busy, so get there early to add your name to the list.
Cafe de Olla | 423 S Myrtle Ave, Monrovia | Google Map It
5. Merengue Bakery & Cafe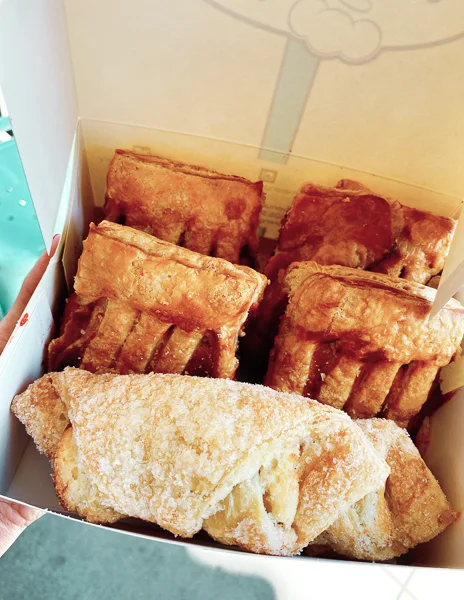 Merengue is one of our favorite Cuban cafes and bakeries, and it's on Myrtle Avenue. Here you'll find popular Cuban flavors like cafe con leche, Cuban sandwiches, empanadas, papas rellenas, and well-known pastries like pastelitos de guayaba.
It's a small cafe with limited seating inside and outside. You order at the counter, then find a seat to enjoy your treats.
Their Cuban coffee is excellent and pairs well with a pestelito de guayaba (guava pastry) or toasted Cuban bread with butter for breakfast. They have a whole section of cakes and pastries that are hard to resist.
Lunch is available, and we recommend their Cuban sandwiches. However, our favorite is the Milanese sandwich. All their sandwiches are served with their homemade fried plantain chips, which are amazing.
On the side, get a papa rellena stuffed with cheese or beef. Sometimes we just go in to grab one of these with a cafe con leche as a snack.
This is a popular spot in Monrovia, so you'll find that lines will go out the door at certain hours of the day. Many are there for the bakery alone as they prepare beautiful and delicious cakes for every occasion.
Merengue | 417 S Myrtle Ave, Monrovia | Google Map It
6. Viet Phomula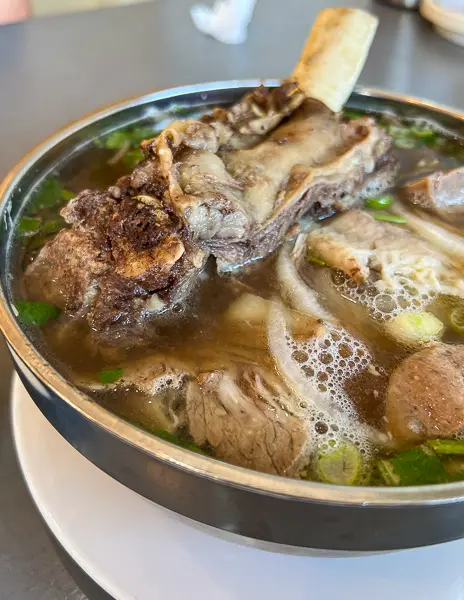 For Pho in Monrovia, the Viet Phomula on Lemon Ave is a delicious Vietnamese restaurant in Old Town Monrovia.
This small casual spot is perfect for a quick lunch or dinner run. Their menu has favorites like spring rolls, banh mi sandwiches, and pho.
While we have not tried their banh mi sandwiches yet, we were delightfully surprised by how good their pho is. We ordered Viet Phomula Superbowl, a whole beef short rib, beef balls, brisket, and other toppings.
The whole beef short rib was fall-off-the-bone tender, and the brisket was thinly sliced and cooked perfectly. The broth was flavorful and soothing. Overall, a great bowl of pho.
Viet Phomula | 113 E Lemon Ave, Monrovia | Google Map It
7. J B Burgers
J B Burgers is a popular old-school burger joint that has been part of the Monrovia community since 1973. You'll find classic burgers, chili cheese fries, hot dogs, pastrami sandwiches, and Mexican-style plates. Breakfast items are also available. But they are mostly known for their burgers and breakfast burritos.
Locals flock to J B Burgers to get their fix. You almost always will find a line, but the service is fast. There is indoor and outdoor seating. Expect a casual vibe.
This is one of the spots we visit this spot when we want a greasy and delicious burger. The double cheeseburger is a favorite. As you know, we think California has some of the best burger joints.
J B Burgers | 627 S Myrtle Ave, Monrovia | Google Map It
8. Nano's Cafe
Nano's Cafe is a cozy little family-run cafe on the corner of Mayflower and Duarte Road. It's a local favorite for breakfast and brunch on the weekends.
They have an all-day breakfast menu with pancakes, eggs Benedict, breakfast burritos, and chilaquiles. They also have a lunch menu with sandwiches, salads, and burgers.
The eggs Benedict and the pancakes are our go-to here. If you can get a side of fruit, do so, as it's always a beautiful and fresh mix of seasonal fruits.
What makes Nano's Cafe special is the warm and family-friend environment. It's great for groups, family breakfasts, and brunch – we have had our share here. The servers are kind and great with kids.
Nano's Cafe is open every day from early morning to mid-afternoon. We suggest you get there early on weekends for breakfast. They also have another location in Sierra Madre.
Nano Cafe | 441 W Duarte Rd, Monrovia | Google Map It
Check out these other restaurants and places to eat in Monrovia:
Enjoyable Things to do in Monrovia, CA
Looking for things to do in Monrovia, California? See what this charming and underrated Los Angeles destination has to offer. Great for a family day trip in Los Angeles, Friday night activities, and date night ideas in LA. This is Route 66 stop is one you don't want to miss in Southern California.
Monrovia has many places to eat, but these 8 restaurants are some of our favorites that we frequent and want to share with you. All the restaurants featured serve delicious food, whether you're looking for breakfast, lunch, or dinner.
We hope you enjoy trying out some of these places the next time you're in Monrovia.
What are your favorite places to eat in Monrovia? Let us know in the comments!
Don't forget to share the love on Pinterest: